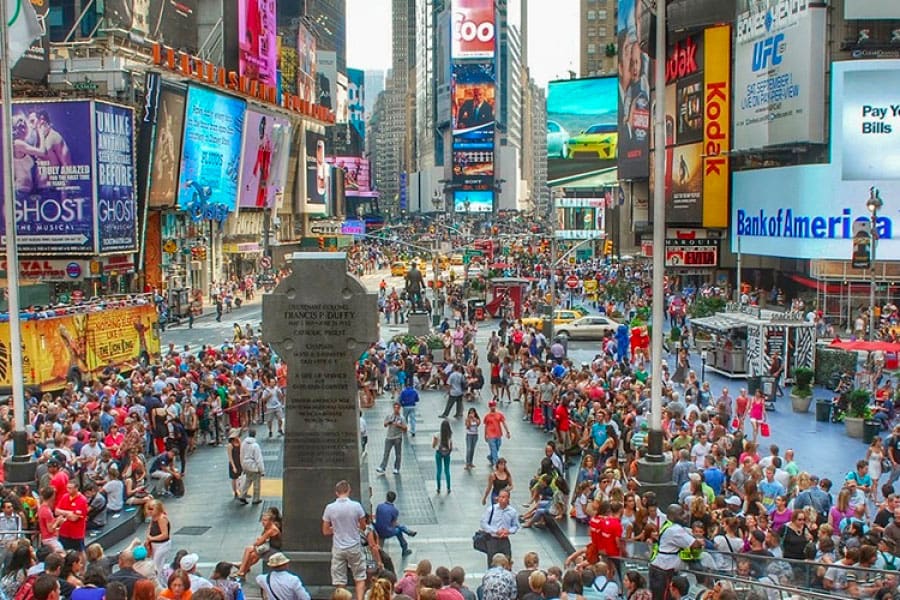 Gaming industry giant Caesars Entertainment has teamed up with one of Manhattan's biggest developers, SL Green Realty Corp, to produce a casino that will be situated right in Times Square, New York.
In a joint statement, the two companies revealed their plans to elevate the area's economy, tighten up security and bring a different form of entertainment to it. They are both currently pursuing one of the three available gaming licenses in the New York City area.
The duo's proposal includes repurposing the building at 1515 Broadway – which formerly housed MTV's Times Square studios and is now an office complex – into a Caesars Palace Times Square casino. In addition to that is a Broadway Theater for Lion King. To sweeten the deal for the inhabitants of New York's Theater District, the duo included plans to improve traffic congestion and mass transit there – all being fully funded privately.
"We believe that Times Square offers the best location for a new resort casino that can attract tourists and benefit local businesses," Marc Holliday, CEO of SL Green, said in a statement.
"A casino in Times Square is in keeping with existing uses in the area. Times Square is the center of the entertainment universe. Because we are proposing a renovation, once the license is issued, we can open quicker than other facilities, which require entirely new construction, changes in law, and will be disruptive to their local communities."
Gambling houses have been illegal in the New York City area for many years, but the ban is lifting by 2023. As such, the casino commission in the state is giving out three Tier III gaming licenses that will allow slots, table games and retail sports betting, and the asking price for these licenses starts at USD $500 million.
Two of these licenses will most likely go to MGM's Empire City Casino in Yonkers and Resorts World New York in Queens. Meanwhile, major competition for the last license will come from the joint venture between Wynn Resorts and Related Companies and a collaboration between Hard Rock and billionaire Steve Cohen.
Praise for the Caesars proposal has come pouring in from former New York Police Commissioner Bill Bratton and the Actors' Equity Association.
"The proposal from the developer for a Times Square Casino would be a game changer that boosts security and safety in the Times Square neighborhood with increased security staff, more sanitation equipment, and new cameras," the group said.
However, there has been pushback from several angles against the proposal. Chief among these is the Broadway Theater League, which openly denounced the casino.
A statement from the group read: "The addition of a casino will overwhelm the already densely congested area and would jeopardize the entire neighborhood whose existence is dependent on the success of Broadway."