History of Craps: From street dice to the casinos
History of Craps: From street dice to the casinos
Craps is one of the most popular casino games in the world. Whether it's played online or at a land-based casino, it's one of the more unique and diverse ways to gamble thanks to its varied wager options. Learn more about the game's history in this article.

Find online Craps at the best Internet casinos
---
History of craps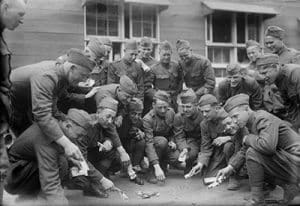 Craps was created out of an old English game called 'hazard'. However, many historians date it back to the Crusades, and that the game evolved and was eventually developed by French gamblers. The game as American gamblers (and most of the world) know it today was brought to the West to New Orleans by Bernard Xavier Philippe de Marigny de Mandeville, who was a gambler and politician that had come to live in the city as a descendent of colonial landowners.
The game has evolved quite a bit since Bernard's initial version, however: his game allowed players to exploit the house by using fixed dice. This prompted John H. Winn, an American dice maker, to introduce the "don't pass" betting option, which addressed the problem and still exists in modern versions of craps.
Interestingly, the game was first known as "crapaud", which is the French word for "toad", referencing the crouched way people would play on a street or sidewalk. Many gambling historians credit this game's popular on the streets – it's now known as "street craps" and is still quite popular – to the rise in popularity of craps in casinos. Street craps became increasingly popular during World War II, as it was a common game among soldiers, which may explain its eventual rise to become of the more desired casino games today.
Craps' popularity could be put down to the social aspect, as players are often betting against each other or the bank. Online casino variants offer a fast and fun way to play, which helps maintain the excitement of playing at a land-based casino.
---
How to play craps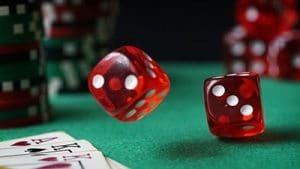 Craps is played with two six-sided dice, with the aim of the game to guess the total combined number, and place your wager to back your prediction.
A "shooter" throws the dice down the table, and the total of the two dice is added to determine the outcome. Players can bet on either one roll of the dice or multiple, which makes craps an extremely flexible and diverse casino game to play.
There are multiple bets:
The pass line bet:

The easiest bet for beginners. The player wins if the shooter rolls a seven or an 11, but lose on two, three or 12.

Field bets:

This bet involves wagering on two, three, four, nine, 10, 11 or 12. You will win on these numbers, but lose on five, six, seven or eight. Two and three pay outs three to one odds, which is generally better odds than the other numbers (although this depends on the casino).

Place bet:

Either place to win — bet on the lower dotted line of the box, directly across from the number you want to play — or bet to lose. Place your bet on the upper dotted line directly across from any number except seven, and you win if a seven is rolled before that number.
These are the most popular bets, but there are many others. This is why craps is so popular: because it offers so many different ways to win.
---
Playing craps online
You can experience the excitement and fun of craps online at a number of our recommended online casinos. The great thing about online craps is that it's fast paced, and the standard etiquette rules don't apply. New players at land-based casinos often get caught up in the superstitions and security of the casino, like handling the dice with two hands instead of one. When you play online craps, however, you're immediately thrown into the action, so you can start playing for real money straight away.
Where to play craps online
Craps at Royal Vegas: Royal Vegas offers an amazing selection of casino games, and when it comes to craps you'll struggle to find a better place to play online! It offers fantastic 3x odds behind the pass line, which makes for easier and bigger wins. There is an instant play option, but you can also download the software straight to your desktop.
Craps at G'Day Casino: This online casino is targeted at Australian gamblers and offers a number of different craps variants, including tables with a minimum one chip and maximum 100 chip betting range. This casino is great for beginners for this reason, and is an appealing place to get started and learning how to play craps.
---
How to deposit and get playing
To jump straight into the action and start playing craps online for real money, choose from one of our recommended casinos above and select from a number of safe and secure payment options. Most online casinos offer instantaneous withdrawals generally taking in the 24-48 hour range. All money transfers are secured and protected by 128-bit SSL technology, so you can rest easy knowing your time playing craps online is completely safe and regulated.