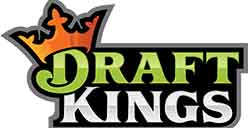 DraftKings has signed an agreement with an Atlantic City casino which will see them enter the sports betting ring in New Jersey.
The fantasy sports company and Resorts Casino told media on Friday they had reached an agreement to combine to offer a sports betting product to the state.
It had been predicted that the Supreme Court's decision to overturn the ban on sports betting last month would create a flurry of activity in the industry and so far it is proving to be true.
William Hill has already entered NJ through its association with the newly-launched Ocean Resort Casino, while several other big names have also made their ambitious intentions clear.
There has always been only the finest of lines between real money fantasy sports and sports betting.
One difference is that the former is run more like a tournament between competitors that all pay an entry fee while sports gambling is between sportsbook and punter alone.
However, since fantasy sports and sports betting can both offer payouts to people that know what they're doing, they certainly attract the same clientele.
Whether DraftKings will offer something unique to gambling customers or duplicate conventional betting remains to be seen.
Commonly in fantasy sports, competitors set a lineup of players they hope will be active in filling up the stat sheet on a given night, with a strong emphasis on the individuals performance, rather than the team's result.
Sports betting will broaden the horizon for fans with many more betting options available, including some markets involving players, although the most popular wagers are money-line bets that focus on teams (ie. winner/loser bets), handicap or spread bets, and offensive totals (ie. OVER/UNDER for team totals).
Several other states in the USA including Delaware and Rhode Island have indicated they will move swiftly to properly legislate sports betting.
It has been reported that the illegal US sports betting market is worth billions of dollars, but with regulation it can be worth a lot of money to the local economy.