Evolution Gaming casino sites
Evolution Gaming casino sites
Evolution Gaming is one of the leading and most innovative live dealer online gaming software providers, and works with many top-tier casino operators to deliver state of the art, high definition and interactive real money gambling, to a customer base thoroughly content with all of what Evolution Gaming offers. Evolution Gaming online casinos are some of the most accessible on the web:

Top Evolution Gaming Casinos
Founded in 2006, Evolution Gaming quickly revolutionised the online gambling industry within Europe, making its presence felt in jurisdiction's such as Italy, Spain, Denmark, Germany and Riga (capital city of Latvia), as well as opening a studio in Malta (an island south of Italy, between Sicily and the North African coast), and expanding to gain preliminary waiver approval to operate in New Jersey in the United States.
With its main studio located in Riga, Evolution Gaming has rolled out its live casino services to a host of regulated markets, offering quality games like blackjack, roulette, poker and baccarat. Let's take a look at the Evolution Gaming features and games, and at which sites players can immerse themselves in the innovative gaming experiences provided by this advanced and reliable company.
Evolution Gaming live dealer studio and games
As of 2020, Evolution Gaming owns two central gaming production studios – locations which are dedicated to employing hundreds of croupiers to host live dealer casino table games for public and individual gambling site operators.
The Riga studio in Latvia is the larger of the two, operating more table games than any other land-based casino operator in all of Europe. The newer studio in Malta was opened to meet a soaring customer demand, and operates to the same high standards as the Latvian studio.
Both studios are regulated and monitored in real time by the Mission Control Room, which can intervene and resolve any services which play up, any player and dealer disputes, and any fraud related issues.
How the live gaming tables are operated
Professionally trained croupiers are employed to operate the game in which they have been assigned to, and those games are filmed with high definition cameras, and the live footage is streamed to the sites of licensed and registered Internet casino operators.
Registered members of sites such as www.Guts.com can access the live dealer gaming interfaces direct via their desktops, laptops, smartphones, tablets and even Smart TVs, and watch and participate in the live action. In all games, the dealer will inform the bettors of when to place their wagers and when to act, just like in a typical brick and mortar casino – which is essentially what this is, but the player can be enjoying the experience from the other side of the globe.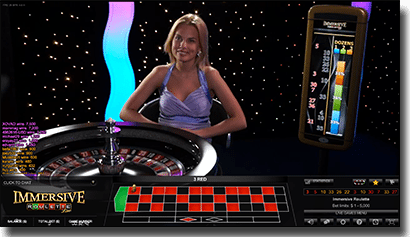 Live roulette – The iconic spinning wheel of the casino, roulette is offered in its live dealer roulette format by Evolution Gaming in traditional European and French styles (avoiding the unfriendly double zero American version). In addition to both the European and French* games, Evolution Gaming offers its 'Game Of The Year' award-winning Immersive Roulette variant, which draws players into the action with unique and 'up close and personal' camera angels of the wheel, ball and croupier. Watch every movement of the roulette ball via a 200 frame per second HD video, and enjoy a slow motion replay of the action, too.
Slingshot Auto Roulette is also available in a live format. The game features a live wheel powered by an advanced, fully automated mechanism which allows for 60 to 80 games per hour – no human croupier required.
*French games incorporate the highly popular La Partage and En Prison rules, along with a host of additional French call bets unavailable in traditional European or American versions.
Live blackjack – Optimised for all platforms, live blackjack is slick, sleek and endlessly entertaining. Place your bets via the easy-to-use interface and enjoy betting behind other players, and side bets such as 21+3 and Perfect Pairs. In addition to traditional live blackjack, Evolution Gaming also markets is fresh and light-hearted live Blackjack Party game, where up to three croupiers take turns in dealing cards, while keeping the gameplay entertaining with social chatter and banter, complete with upbeat music.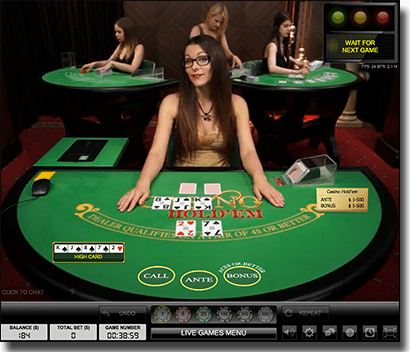 Live casino hold'em – A fresh take on the traditional Texas Hold'em poker game, this live variant pits player against dealer, rather than player against player, where the best five-card hand wins. Win more if you hit higher ranking hands, enjoy high-paying side bets, and experience the new way to play interactive and affordable hands of Texas Hold'em poker.
Live baccarat – A thrilling and extravagant live version of Asia's most popular betting card game, live baccarat allows players to truly immerse themselves in the action, with a pairs side bet option which pays out at 11:1. Keep track of all hand histories and statistics, and enjoy the elegance of this luck-based and classical title.
Live three card poker – A fast paced and enthralling poker variant, three card poker is one of the most under-rated and suspenseful casino games played against the dealer, where the highest ranking three-card poker hand wins. With hands ranked slightly differently to traditional poker hands (namely a straight beats a flush), this unique title developed by Derek Webb back in 1994 has been adapted and advanced, with Evolution Gaming's live version offering side bets such as Pair Plus and Six Card Bonus Bets, which hold extraordinary payouts as high as 100:1 and 1000:1 respectively.
Table games features and player benefits
Unlike Microgaming live dealer games, within all Evolution Gaming live titles, players can interact with other players and dealers via a live chat feature. With demeaning and offensive chat behaviour reported to managers, players are keen to keep things lively and sociable, and so are the croupiers.
Additional features for the live games include:
Exclusive VIP betting for high stakes players within the Red Room
Availability of game history and statistics
Native speaking dealers
Full screen, classic and 3D live views
Multi-game play (play two or more live games simultaneously)
Multiplayer gameplay
Fully customisable betting limits to suit your bankroll
Customisable video and audio settings (change quality of the stream, and turn the audio/music on or off)
Full HD live Evolution Gaming titles are compatible with the latest mobiles and tablets, as well as Smart TVs, so you can even gamble from the comfort of your own couch when you connect to one of our Evolution Gaming powered online live casino sites.
Security, safety and legality of interactive live croupier studios
The legalities around playing at Evolution Gaming online casinos will largely depend on where you are in the world. For instance if you are in Australia it's illegal to play at online casinos, but you still can. No players have ever got in trouble from the government in Australia for playing at online casinos, instead the fault is usually blamed on the operator. Other countries around the world are in a similar boat to Australia, with places like Canada, the USA, and New Zealand all having some level of legal access to these live casino games. Some of our top Evolution Gaming Casino include:
…are licensed and registered by their jurisdiction's gaming authority body, and regulated by independent testing agencies which ensure gaming fairness, player protection and operator conduct meets all industry standards.
Additionally, the Evolution Gaming company itself is licensed and regulated by:
The Alderney Gambling Control Commission
The Malta Gaming Authority
The UK Gambling Commission
The organisation is also certified by the Customs Agency and Monopoly of Italy, the Danish tax authority, the Danish Gaming Authority, and the Gaming regulatory body of Spain, and in 2014 was named the eGaming Review's 'Live Casino Software Supplier Of The Year' for the fifth consecutive year.
Join in the evolution of live dealer games at Guts Casino to legally and safely play real AUD blackjack, roulette, baccarat and poker variants controlled by actual human croupiers.