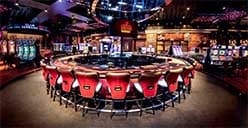 San Manuel Casino is changing the interior view of its current gaming area despite the ongoing $550 million expansion works on the facility with the newest add-on being a giant blackjack table.
The casino, on August 10, opened it Blazing 7's Blackjack Arena in the Rockin',Casino area of the facility.
CEO of Gaming at San Manuel Peter Arceo disclosed why the new blackjack table was added.
"We originally talked about adding more blackjack tables. We already have over 100 table games and wanted to do something really different and creative," he said.
Blazing 7's Blackjack arena, located at the former promotion area between George Lopez's Chingon Kitchen and Rock & Brews, consist of six tables joined together in a circular form, which allows a maximum of 36 people to play with up to six dealers.
"Friends like to play together and sometimes can't and have to split up because there's only one or two spots open at the tables," Arceo said.
"With the arena, we've created a bar-type setup where people can sit side by side so it's a more social experience and friends can stick together."
The chief operating officer noted that the arena is perfect for bachelorette and birthday parties or groups who want to play together.
"The table is busiest in the evenings," he said.
"It's not unusual to see it completely full between 6 p.m. and 2 am."
Arceo noted that players can choose between playing regular blackjack or participate in a progressive wager with a $5 side bet. This enables them to win a progressive jackpot, only linked to the arena.
Arceo said the arena has become an attraction for guests as they mostly walk over to take photos.
"It really creates the perfect Instagrammable moment," he said.
"Everyone is excited he said."