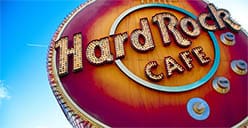 In what appeared to be fair accompli the Hard Rock Casino in Atlantic City has formally had its license to operate approved.
Earlier on Wednesday, the New Jersey Casino Control Commission had organized a public meeting to address the possibility of Hard Rock International being given a gaming authorization before the planned launching of its Atlantic City's property on June 28.
Casino Control Commission directors wasted no time placing their seal of approval on the license application of Hard Rock International.
Talking about his company's dedication to the industry, Allen James, the CEO of Hard Rock International said their commitment to Atlantic City could not be questioned after spending close to $500 million on renovating the old Trump Taj Mahal building.
Hard Rock International, operated by the Seminole Tribe of Florida, announced it would be launching weekly entertainment, including two bumper accts for its opening weekend.
Country music icon Carrie Underwood will play on June 29, as well as hip hop musician Pitbull the next evening. The group has an entertainment budget of $30m in its opening year to guarantee a constant flow of customers through its gates.
Hard Rock International received some unpleasant news earlier in the week when Bruce Deifik, the Colorado developer of Atlantic City' Ocean Walk declared that its newly completed Ocean Resort Casino would also start operating on June 28.
Ocean Resort Casino has enlisted divine assistance to make sure it has better fortune in comparison to the ill-fated Revel. Inside the complex will be a Wahlburgers restaurant, owned by movie star Mark Wahlburg, who recently invited a priest to bless the venue.
Atlantic City's has recently seen five casinos shut down, including the Atlantic Club, which was the first to go in January 2014. The decreased competition has seen the remaining seven casinos show increased profitability. But there are fears the inclusion of a couple of more casinos might affect the profitability of current casinos.
On Thursday, Atlantic City's casinos are slated to publicize their April performance. In the earlier two months, they have had to put up with continuous profit declines, due mostly to persistent attacks of harsh weather conditions.
More casino news