Why I hate playing on my wife's card team
Why I hate playing on my wife's card team
I love my wife. It's true. I do. She's smart, funny, sexy and gets me more than anyone else on this great floating blue ball we call Earth. But despite her perfection in every other aspect of her personality, I hate playing cards with my wife and here's why.

High-rated casinos for women
---
She talks – way too much
When I'm playing cards, I like to keep the chit chat to a minimum, unless of course it's to goad some poor simpering fool into making a wrong bet or just to plain mock another player.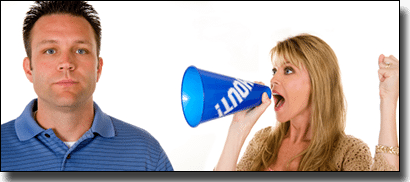 My wife though? She likes to hijack any card game and turn it into a gossiping sewing circle. Somehow, whenever my missus sits down to play cards she can turn even the most hell-bent card slinger into a gossiping queen and it drives me nuts.
I want to get down to the serious business of playing cards, not talk about Mary from mother's group sleeping with the Gymboree instructor!
Not only that, but her talking can often distract me. Is she going to tell an embarrassing story about me to our pals? Because there are so many horrific stories about me that she knows.
---
She's too nice and only just knows the rules
This is one of the things I love about my wife… off the card table.
She's is a beautiful soul, but she lacks a certain ruthlessness. This kind of trait is fantastic in every day life, but at the card table you need a certain blood-lust: the ability to spot another punter's weakness and kick them while they're down.
If we're just playing one-on-one card games it's not so bad: it doesn't affect me. She's the only one losing money. But if we're playing a team card game like 500 or Euchre she never go's in for the kill like I would. And it has cost us a number of games.
Not knowing all the rules doesn't really affect or bother me when we're playing one-on-one games, but it sure does when we are playing team games. Not playing the right card at the right time, losing count of the trump cards. Small things that can add up to losing the game – and my temper when it comes to my untameable competitive nature.
---
What happens on the card table never stays on the card table
This is one of the things I hate most about playing card games like blackjack with my wife.
At the card table it is possible I become a different person: a cross between an arsehole and a super-villain. I call people names and can resort to some pretty cunning and devious tactics just to win, but that's cards, damnit! My wife however doesn't see it like that. Especially if I beat her one-on-one or throw her under the bus – for the greater good of course!
She doesn't see it as the greater good, she see's it as me being horrible and that can lead to consequences at home. Primarily me sleeping on the couch for at least a night or two.
---
My solution?
To side-step all of this madness, I have devised a cunning scheme.
See, my wife and I still play cards, both as a team and against each other. But I look at it in a different way now. I now view playing cards at a mate's place or a bricks and mortar casino as social, not hardcore.
I reserve my hardcore card slinging for real money online casinos and poker sites now. That way I don't have to worry about stepping on my missus' toes or have her see my inner super villain and wind up spending a night or two on the couch.
We are much happier these days. I don't get so worked up when we're playing cards together with friends and I can have a serious punt in peace and quiet. Thank God for online casinos!
Here are some of the best I've found on the 'Net that caters to my needs, when it comes to finding the card games I want to play online on my computer or laptop and while on-the-go on my mobile and tablet, as well as offering various currencies and regular casino bonuses.
Enjoyed our tongue in cheek look at why you should not play on your wife's card team? Check out our articles on the Craziest Gambling Stories and Biggest Ever Casino Wins.