Biggest online casino wins
Biggest online casino wins
Think the big bucks are only reserved for land based casinos? Internet casinos have been responsible for some monumental wins, making many instant millionaires out of regular Joe's playing their favourite casino games at home. We'll take you on a mouth-watering journey across some of the biggest online casino wins to get you inspired for your next trip to one of our recommended casinos.

Best online casinos for big wins
---
Mega Fortune world record jackpot
Net Entertainment's progressive jackpot pokies game, Mega Fortune, uses a theme of lavish living and riches. The reels are covered with pictures of cash, fancy cars, jewellery and other icons of decadence to give players a taste of things to come if they're lucky enough to strike the jackpot.
Mega Fortune has created many huge winners over the years, but none has ever beat the jackpot scored by a Helsinki man back in 2013. The 47 year old gentleman who remains anonymous, struck it lucky with a whopping $22,974,400 win on Mega Fortune, becoming not just an instant multi-millionaire but also a world record holder.
The win was so massive that it made it to the Guinness Book of World Records, where it remains to this day as the largest sots jackpot payout in any online slot machine game. It gets even better – the jackpot was won with a mere €0.25 wager.
The Mega Fortune Touch mobile version also set a record in early 2015 for the biggest mobile jackpot win when a Swedish player scored 5.7 million Euros online (a record that has since been smashed by rival slot game Mega Moolah).
Head to G'Day Casino to play Mega Fortune for your own chance to win.
---
Also read: Why I hate playing on my wife's card team
---
Mega Moolah's biggest wins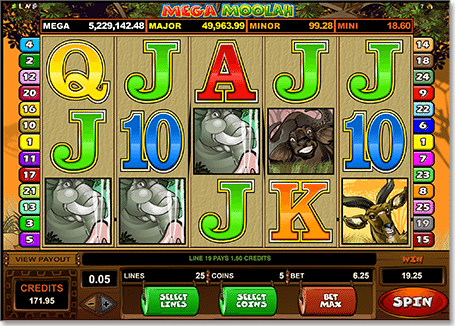 Mega Moolah has been responsible for more big online wins than any other virtual slot game, making this otherwise average pokies hugely popular at Internet casinos.
Recently, Mega Moolah claimed the title of biggest jackpot win at a mobile casino when a lucky player at Royal Vegas Casino won $7.6 million on their smartphone, a record which currently remains unbeaten. The player had only been a registered member at RVC for a few days before he claimed the epic jackpot.
This Microgaming progressive jackpot pokies uses a fun, vibrant African safari theme and has a jackpot starting at a minimum of $1,000,000. Due to the popularity of Mega Moolah across all Microgaming powered casinos, the jackpot is constantly increasing.
The biggest Mega Moolah win in history was claimed by UK player, John Orchard, back in December 2012 when he claimed a cool $11.24 million. Other significant wins on Mega Moolah include a $5.5 million win by a Finnish player back in 2008, €6.3 million jackpot by a Greek player in 2009 and $3.3 million by an American player in 2013.
Head to Slots Million on your desktop, smartphone or tablet today for your chance to claim your piece of the ever-progressing Mega Moolah jackpot.
---
Arabian Nights slot records
Since its release in 2005, NetEnt's Arabian Nights progressive jackpot pokies has paid out tonnes of wins, with the average jackpot falling around the $2 million mark. In a decade of its existence, a jackpot win has been recorded in Arabian Nights approximately once every 14 weeks.
The biggest recoded win to date was AUD $6.9 million. Like many other progressive jackpot slot games, the game itself is unremarkable, with graphics that are testament to its 2005 development, but nonetheless Arabian Nights promises the potential for hefty wins, with a return to player rate of 95.2%.
---
Major Millions major prize winners
Major Millions is another Microgaming progressive jackpot slot game that's pumped a major cash flow into the lives of lucky punters around the world. The biggest Major Millions win was triggered back in 2012, with one lucky player cashing in a sweet $1,801,517. Recently, someone's Easter long weekend was made a lot brighter when a tasty win of $283,853.
On average, a major win is triggered on Major Millions every 10 weeks, with an average win around the $500,000 mark. Don't expect state of the art graphics or innovative bonus features when playing Major Millions, but what the game lacks for in design it seriously makes up for in prize potential.
Major Millions can be played at a majority of Microgaming powered casinos, including Royal Vegas Casino.
---
Biggest online poker winners
It's not just the pokies that have the power to make millionaires; online poker has been known to create its fair share of happy winners. The exact statistics of the biggest online poker wins are hard to find as there is no official data available, but Full Tilt poker releases a report of the biggest winners on its site at the end of each year.
At the end of 2014, a player named Dan Crates topped the leader board at $2.8 million, while in 2013 the title of biggest online winner went to Niklas Heinecker who pooled in over $6.19 million in profits. Poker star Phil Ivey has reportedly won more money playing online poker all up than any other player, apparently profiting over $19 million from Full Tilt Poker over the years.
If all this talk about multi-million dollars winnings has got you dreaming of greener pastures, head to one of our top real money online casinos today and sign up to play these (and many more) progressive jackpot pokies.
Our top online casinos each accept deposits in multiple currencies and offer a range of secure payment options. These casino sites are covered by the highest in digital security encryption so you can join in on the chance to win while enjoying the peace of mind in knowing you are gambling at a safe and reputable venue. We recommend BetOnline Casino as our top-rated casino site for players from United States.