Craziest life-changing bets at casinos
Craziest life-changing bets at casinos
Have you ever felt a rush of good luck wash over you, some inkling that comes out of nowhere to tell you that today will be a lucky day, and acted on it to discover you were right? Call it great luck or call it complete recklessness – some people followed their instincts to place a down right crazy bet and changed their lives for the better. The old saying "the higher the risk, the higher the reward" reigns true for these very fortunate (or simply insane) punters.

Best online casinos for big wins
---
The man who sold everything
The best (and worst) ideas always start out over drinks at the pub and this one is no different. In 2004, 32 year old British man, Ashley Revell, made headlines across the world when he announced he was going to sell everything he owned and use all the money made in order to place one single bet on the roulette wheel.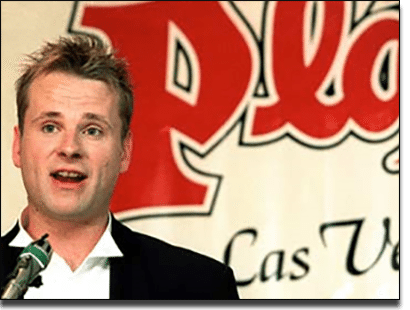 When we say Revell bet everything, we mean every single thing he owned, including his BMW, a Rolex watch, golf clubs, all of his household possessions, nostalgic items from his childhood and every item of clothing.
Revell ended up with USD $135,000 which he took to the Plaza Casino and Hotel in Las Vegas, followed by a British Sky One Television crew who decided to film the whole thing for a reality TV mini-series called Double or Nothing. A vote was put out to the public as to whether Revell should put his bet on red or black with red being the majority winner. He made the last minute decision to follow the voters and placed all $135,000 of his life savings on red…. And the ball came to a stop on red seven, leaving Revell to walk away with $270,000.
Revell used the money to travel around Europe on the back of a motorbike, where he met his future wife and mother of his two children. Revell says the life-changing bet taught him not to care about material possessions and that he can thank his crazy bet for finding his wife.
---
UK man bets life savings on roulette
In 1991, Chris Boyd, a 40 year old computer programmer from England, came up with the bright idea to start a savings fund which he would then use to place a single bet on the roulette wheel. He saved meticulously for three years with his well-paying job allowing him to sit on a hefty nest egg of USD $220,000.
Boyd took his money to Las Vegas where he struggled to find a casino that would accept such a large bet from an unknown casino high roller, eventually convincing Binion's Horseshoe Casino in Downtown Vegas (which closed in 2009) to make a one-time-only exception to their usual $100,000 maximum bet.
In an act of sheer ludicrously, Boyd placed the entire $220,000 on red on a European roulette wheel and couldn't believe his luck when the ball landed on red seven (coincidentally, the same number that made Ashley Revell rich all those years later). Boyd walked away with $440,000 and stayed true to his word that he'd never place another bet again as he'd already been lucky enough.
Many of the top real money casino sites have got European Roulette available to play.
---
Last chance poker game
Archie Karas is a Greek national who grew up in poverty and spent his whole life hustling for money, getting a love for gambling from a young age where he would place bets on marble games. After a job on a cruise ship which led him to a new life in America, Karas started making money as a pool shark before moving on to hone his skills as a successful poker player.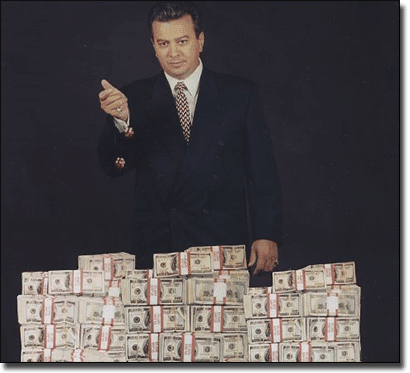 Playing high stakes poker games in Los Angeles, Karas managed to win and then lose close to $2 million, suddenly finding himself back to his poor ways with only $50 to his name. Refusing to fall back into a life of poverty, he drove to Las Vegas where he convinced a friend from the LA poker scene to loan him $10,000.
Karas used the 10 grand to place several high stakes bet on Razz poker, turning the $10K into $30K before repaying his debt with 50% interest and using his winnings to play high stakes craps and pool games. Within three months of driving to Las Vegas with $50 in his pocket, Karas had earned a bankroll of $7 million, earning him the title of one of the greatest gamblers of all time.
Karas' winning streak lasted for another two and a half years, where that initial $50 became close to $40 million which he managed to lose within a three week period.
The lesson to be taken from Karas and his winning streak, is that you should always set limits on your losses. This has become a feature of gambling sites in modern times, with UK casino sites among the leaders in encouraging players to gamble responsibly.
---
US man turns social security check into one million dollars
In 1995, a Nevada man was down on his luck as his wife had just kicked him out of the house. He went down to pick up his social security check of $400, which was the only money he had to his name. In a risky move, he placed the entire check on a game of blackjack at the Treasure Island Casino in Las Vegas, starting a surprising winning streak as he ignored all use of blackjack strategy and played using his own unconventional approach.
That $400 social security check soon became $1 million, but unfortunately, the man didn't walk away and choose this as an omen to make a better life for himself. He bet the whole lot and lost it as quick as he won it, walking out of the casino empty handed without so much as the social security money.
Before you attempt to follow in the footsteps of this lucky men, head to one of our recommended casinos, like G'day Casino, and start playing online games for real money to hone your skills and see for yourself whether the odds work in your favour.