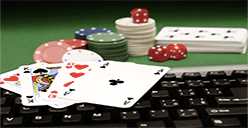 The decision by the US Supreme Court to overturn the 1992 Professional Professional and Amateur Sports Protection Act (PASPA) could hasten federal legislation for the online casino industry.
While it is yet to be formally discussed by federal legislators it would appear to be in the pipelines with indications legislating sports betting at this level could happen, although it will take time.
At the moment some states in the USA, including Nevada and New Jersey, already allow online casinos as long as they are partnered with a land-based casino. But other states have no legislation surrounding online casinos meaning consumers opt to play at offshore sites.
If sports betting is tackled at a federal level it would almost certainly require some kind of gambling commission to oversee it. This body, will have as one of its first mandates a task to stamp out illegal gambling, and it will obviously push for total control of the gambling industry in the USA including online casinos and poker rooms.
Developed gambling countries like the United Kingdom have strict regulations surrounding all types of online gambling and also have integrity departments to monitor things like betting activity and stamp out money laundering.
It is just a commonsense decision to tackle all types of gambling at a federal level, so despite the lack of specific talk about online casinos in the PASPA debate it is increasingly likely to hasten a fully regulated online casino industry in the United States.
American Gaming Association President and CEO Geoff Freeman sums up the growing feeling that a regulated gambling industry is safer than pretending it does not exist.
"Today's decision is a victory for the millions of Americans who seek to bet on sports in a safe and regulated manner," he said.
"According to a Washington Post survey, a solid 55 percent of Americans believe it's time to end the federal ban on sports betting.
"Today's ruling makes it possible for states and sovereign tribal nations to give Americans what they want: an open, transparent, and responsible market for sports betting. "
What is PASPA?
Professional Professional and Amateur Sports Protection Act (PASPA) outlawed sports betting in all but a few US states. This legislation was overturned on May 14 and opens the door for states to legislate and tax sports betting.
To properly understand how the laws were overturned you need to know about the Supreme Court case Murphy v National Collegiate Athletic Association. The beef between the two parties was whether the U.S federal government is allowed to control state lawmaking.
New Jersey was successful in its challenge and is now free to legislate sports betting as PASPA was deemed invalid.