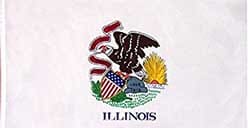 Illinois lawmakers will again put online gambling front and centre when they hear arguments why it should be regulated later this month.
The recent Supreme Court ruling which effectively gave US states the ability to legalise sports betting has created plenty of discussion among politicians, although several bills in the previous legislative session have failed.
But it is hoped that the two hearings scheduled (August 22 and October 2) by Illinois State Representative Bob Rita to deliberate on regulation and legalisation of online gaming will have a more positive result.
In 2017, Rita sponsored the gambling expansion bill, State Senate Bill SB0007, discussed during the legislative session and approved 33-24-1 in May. However it was eventually struck down during debate.
Rita, who is a proponent of online gambling, believes the industry can rake in about $700 million in revenue for the state. With the massive support it gained during the last session, the bill may see the light of the day in the upcoming session.
The second bill, which is about fantasy sports, also suffered non-approval last year. However, Rita said the stumbling blocks were not terminal and believes they will be overcome during the next sitting.
"As you navigate through this, when you move one component it moves three others and you [have to] carefully navigate through this to put a bill together and we've been working diligently on that," he said.
Illinois Gambling Expansion Bill – Key Points
Aims to create the Chicago Casino Development Authority Act.
Provides for the creation of the Chicago Casino Development Authority, whose duties include promotion and maintenance of a casino.
Amends the Illinois Horse Racing Act of 1975 and the Riverboat Gambling Act to authorize electronic gaming at racetracks (and makes conforming changes in various Acts).
Further amends the Illinois Horse Racing Act of 1975. Makes various changes concerning Board members.
Indefinitely extends the authorization for advance deposit wagering.
Contains provisions concerning testing of horses at county fairs and standardbred horses.
Further amends the Riverboat Gambling Act.
Changes the short title to the Illinois Gambling Act and changes corresponding references to the Act.
Adds additional owners licenses, one of which authorizes the conduct of casino gambling in the City of Chicago.
Makes changes in provisions concerning the admission tax and privilege tax.
Makes other changes. Contains a severability provision. Effective immediately, but does not take effect at all unless Senate Bills 1, 2, 3, 4, 5, 6, 8, 9, 10, 11, 12, and 13 of the 100th General Assembly become law