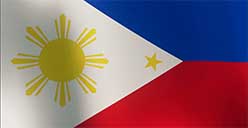 Philippines president Rodrigo Duterte is set to cancel a $1.5 million agreement with Landing International which would have seen a new Integrated Resort built in Manila.
Hong Kong-based Landing International Development Ltd last Tuesday broke ground for the construction of the project.
The presidential spokesperson, Harry Roque, termed the rental payment in the lease contract between Landing and a state-owned foundation signed in March as "unconscionable".
"Sorry to burst your bubble, people, but the president said that is grossly disadvantageous to the government," Roque said. This came a few minutes after Landing began work on the construction of the project located on the Entertainment City strip in the south of the capital city.
Landing, which is aiming to build its fifth casino, is not alone in facing resistance from the government, with one other casino project feeling the wrath of Duterte and his strict views on gambling.
The first to be cancelled was Macau's Galaxy Entertainment Group which had a deal to build a $500 million integrated casino-resort on the holiday island of Boracay in April. The deal was shelved on grounds of environmental concerns; just a month after the gaming regulator approved the project.
Landing received its licence for the project in July from the government-owned and controlled Philippine Amusement and Gaming Corp.
Landing in a statement said the project is "still pushing through and its lease contract with Nayong Pilipino Foundation is still valid and effective."
"Unless the lease contract is cancelled or nullified on solid legal grounds by the courts, Landing has reason to believe that it is a valid leaseholder and can legally proceed with its project," it read.
The integrated casino project scheduled to be operational in 2022 comprises of hotels, gambling areas containing 155 tables and 239 slot machines and electronic table games and water parks.
More casino news