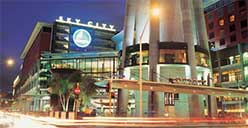 Sky City is considering venturing into the online industry by launching a virtual casino to compete with offshore gambling companies.
The exciting revelation was made at the company's annual profit announcement to its shareholders, however there is still plenty of red-tape to be passed before it becomes a reality.
The company in 2015 experimented with a free-to-play, no stakes online gaming service, with an obvious eye to monetising it when New Zealand brings in legislation to govern online gambling sites.
The Chief Executive of Sky City, Graeme Stephens, said the company is most likely to collaborate with an off-shore-based online casino operator to launch its online operations.
"It's [already] available here in New Zealand," said Stephens, before adding millions of dollars are gambled away to overseas companies.
"A lot of offshore-based casino operators are making their online offerings available to Kiwis, including our own customers.
"It's something we have been looking at for a while, as we need to. We have got a large investment in bricks and mortar.
"The future of the world, not just our industry, but everywhere is going online.
"We are evaluating our options in that space, and if we can make something work, we would like to.
"It's a logical segue from our land-based [business] into the online."
Despite their ambition to launch an online casino, Sky City lacks the capability to do it solely and would have to collaborate with an overseas-based online casino operator.
"You've got to be pretty globally competent, if you are going into the online space, and we don't have any of that competence today, so if we were going to do anything, I'm pretty confident it would have to be with a partner at least to start with," he said.
"You couldn't have a second-rate offering online and hope to attract business."
Another challenge for Sky City is the legal aspect and there must be a change in law allowing an onshore-based company to go into online casinos.
"It's not regulated in New Zealand. Therefore there's no opportunity to create a business in New Zealand today," he said.
"Everyone that's offering the product in New Zealand is doing so from offshore.
"A huge sensitivity for us is to make sure that we are ever compliant in New Zealand."
The news has however been met with fierce opposition by the Problem Gambling Foundation.
Marketing and Communications Director of the Problem Gambling Foundation, Andree Froude, said they were vehemently against licensing online casinos in New Zealand because of the risk factors associated with it.
"We don't want to see any more online gambling opportunities," she said, before adding that Kiwis are already taking advantage of too many online gambling opportunities.
Online casinos feature everything from online pokies to your standard live games like blackjack, roulette and many many more.