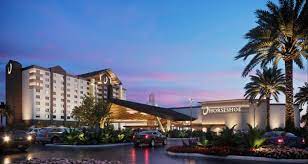 Isle of Capri Lake Charles will be opening its doors to welcome guests on December 12, 2022, albeit under a new name: Horseshoe Lake Charles.
The Louisiana riverboat casino had been shut down since 2020 largely due to the losses it suffered during Hurricane Laura which was then followed by the pandemic and attendant business downturn. However, the riverboat will be reopening as a land-based casino in style and pomp.
Before the devastating hurricane and pandemic, the riverboat had started making plans to come inland in 2019 following a state legislatures directive in 2018.
Also: USA online casinos
Its former parent company, Eldorado merged with Caesars Entertainment bringing the riverboat casino under Caesars. However, the pandemic put all plans on hold, resulting in a two-year closure of the casino-resort. But the former riverboat is back bigger and better.
Horseshoe Lake Charles is a 60,000-square-foot property that will be built on the Caesars Horseshoe brand to deliver an unforgettable dining and gaming experience for guests. The gaming floor features close to 1,000 slot machines, a variety of table games, a dedicated World Series of Poker (WSOP) poker room and a Caesars Sportsbook.
For players and non-players alike, the hotel-casino boasts of 253 guest rooms that are up to standard and have excellent dining options.
Horseshoe Lake Charles will be opening the first Gordon Ramsay restaurant in Lake Charles. In addition to that is a brewpub by the Brew Brothers, a Pan-Asian-inspired noodle bar, a pizzeria and a Baskin Robbins.
"When we closed the Isle of Capri in 2020, we were not expecting the property to be shut down for this length of time," said Anthony Carano, President and COO of Caesars Entertainment.
"But we couldn't be prouder of our team and all of the hard work they've put into this beautiful property. We look forward to welcoming our partners and the community to celebrate with us as we commemorate this milestone and introduce them to Horseshoe Lake Charles."
Horseshoe Lake Charles will officially open at noon on December 12, as soon as approval from the Louisiana Gaming Control Board is received. Guests will be treated to a beautiful ribbon-cutting ceremony, featuring the first-ever drone show at Lake Charles, among other attractions.
Jeff Favre, Senior Vice President and General Manager of Horseshoe Lake Charles said: "After being closed for more than two years, to reopen as a Horseshoe casino is the cherry on top of a pretty spectacular celebration."