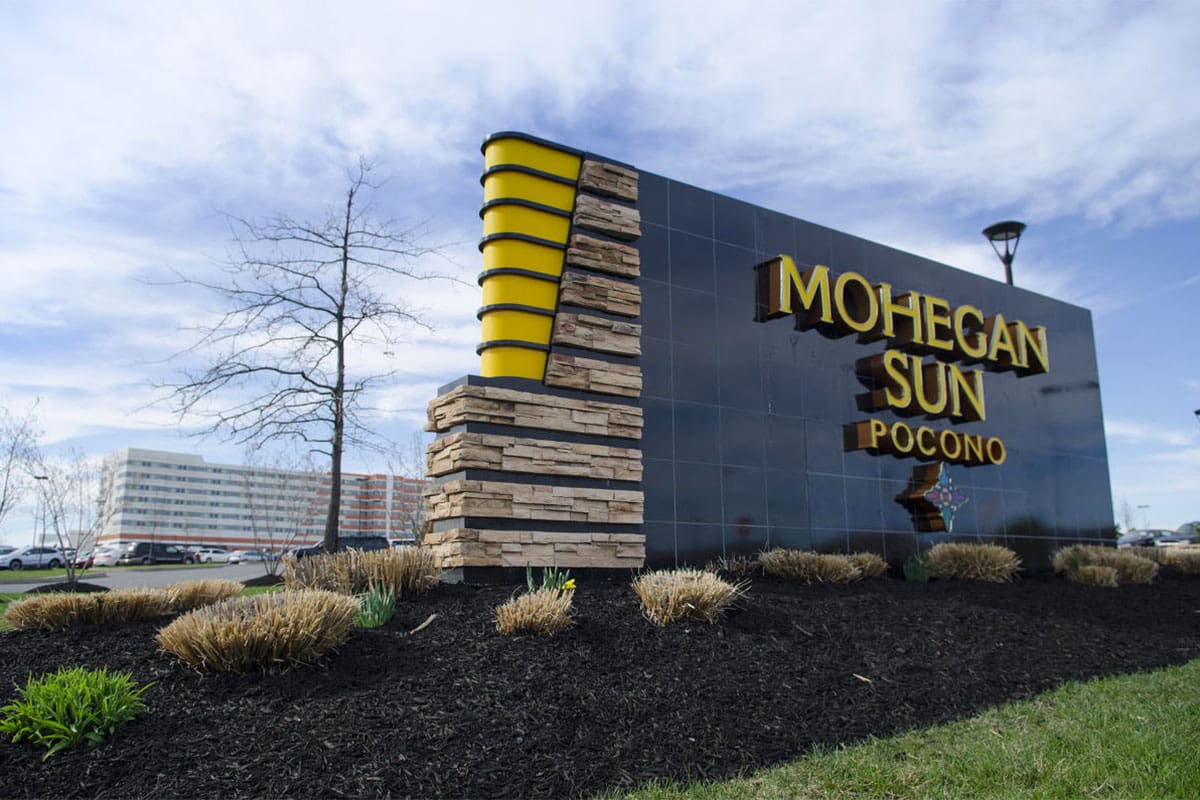 Mohegan has announced its intention to rebrand its Pennsylvania retail casino from Mohegan Sun Pocono to Mohegan Pennsylvania.
The Mohegan Tribe gaming and hospitality unit headquartered in Connecticut previously rebranded the corporate arm of the organization from Mohegan Gaming & Entertainment to Mohegan. According to the CEO of Mohegan, Ray Pineault, the new name was picked because that was how stakeholders, customers, and partners commonly referred to it.
Pineault further explained that the rebranding was a decision that adequately sums up the values and capabilities of the gaming operator. He pointed out Mohegan Pennsylvania as the next rebranding target.
"We recently refreshed our corporate name, going from Mohegan Gaming & Entertainment to Mohegan. Many of our partners, stakeholders, and valued guests commonly refer to our brand as 'Mohegan', so the new title is a strategic decision that encapsulates our capabilities and values," Pineault said.
"To also create synergy across the Mohegan portfolio, especially as we continue to grow in line with the Mohegan Tribe's vision, destinations like Mohegan Pennsylvania have also rolled out a rebrand."
READ: Mohegan Digital introduces PlayFallsview online casino in Ontario
Mohegan Pennsylvania was the first casino to open up in Pennsylvania and, at the time was known as Mohegan Sun at Pocono Downs. The racino began operations in 2006 and is located outside Wilkes-Barre, in Pennsylvania's Pocono Mountains.
A year before Mohegan Pennsylvania launched, Pennsylvania legalized the use of commercial slot machines during state horse race events. The state loosened its gaming restrictions further in 2010 and legalized table games. Mohegan Pennsylvania changed its name shortly after to Mohegan Sun Pocono.
In addition to the recent name change, the racino will receive a $10 million renovation plan named Project Starlight. The remodeling will affect all 237 rooms of the Mohegan Sun Pocono hotel and include enhancements in places like The Hive Taphouse, which opened in June.
The area is a new live music venue and bar, which will have 20+ beer options, a full options menu, and various high-definition screens, as well as 'TopGolf Swing Suites' for guests who want to play virtual golf on famous PGA courses. Customers can also participate in other recreational activities like the Quarterback Challenge.
Embers Terrace, a seasonal outdoor terrace bar, will also be included in the renovation. The bar offers activities like lawn games, wine tasting, acoustic entertainment, and relaxing by fire pits. Embers Terrace began functioning in April but has closed for the winter.
Besides the new dining and drinking additions, Mohegan Pennsylvania has over 1,700 slot machines and almost 60 table games, along with a Unibet Sportsbook on its 67,000-square-foot casino floor.
The Pennsylvania casino also provides its guests with retail shipping, live and simulcast harness horse racing, around 20,000 square feet of convention space, and a slew of nightly entertainment to keep them company.
President and General Manager of Mohegan Pennsylvania, Anthony Carlucci, commented on the rebranding, renovation, and other recent changes.
"There is so much to be excited about as we approach the new year, and that excitement stems from our dedicated team and leadership," Carlucci said.
"With a new name, revamped hotel, new attractions, and the continued unrivaled guest service that has exemplified our brand and all Mohegan properties, we're thrilled about the next phase of Mohegan Pennsylvania."
Having started in 1996 as a tribal bingo operator, Mohegan is now one of the biggest gaming operators in the world. Besides the flagship branch – the Mohegan Sun integrated casino resort located in Connecticut and its Pennsylvania subsidiary – the tribe operates and owns five different gaming venues in North America: ilani Casino Resort in Washington, Resorts Casino Hotel in Atlantic City, Fallsview Casino resorts in Ontario, Casino Niagara, and Mohegan Casino at Virgin Hotels Las Vegas.
In addition to the Pennsylvania renovation, Mohegan is currently advancing with its USD $1.6 billion development in South Korea. The project was previously delayed due to COVID-19 restrictions, but according to the gaming company, the disruptions have since been sorted out.
Mohegan's integrated resort project, dubbed Inspire, will be located at the Incheon International Airport. It will begin operations next year and become the first destination resort in the world to have its own private air terminal.