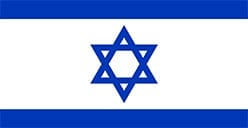 An Israeli court has issued an injunction to block three unauthorised online gambling sites, totobet777.com, p2vbet.com, and 1xbet.com, from targeting Israeli customers.
The state prosecutor's office and the Police Unit for Combating Economic Crime last week requested the Tel Aviv District Court, heard by Judge Zion Kapah, for the injunction, with the court issuing an order to local internet service providers (ISPs) to block the three sites.
This is to prevent punters in Israel from accessing those gambling domains.
Last year, legislators passed the Powers to Prevent Offenses Through an Internet Site Law 5767-2017, which empowers local authorities to issue ISP restrictions in regards to "serious crimes".
GUIDE: BEST ISRAELI CASINOS
This includes restrictions on, unregulated gambling, terrorism, prostitution, drugs and child pornography.
The Ministry of Justice in a press release wrote: "within the focus of the Israel Police's effort to deal with severe economic crime in the area of gambling organisation and management, the Unit for Combating Economic Crime in Lahav 433 has been working to expose sites that operate gambling in order to allow them to be closed."
According to one of the directors of the Economic Crime Unit, Haim Wismonsky, the three sites are not the only ones on the radar of authorities.
This is not the first and would definitely not be the time Israeli police will take such an action against gambling.
Israel has strict restrictions on gambling, with the exception of sports betting and lottery. In addition, gambling companies in the country are banned from operating online gaming platforms.
Nonetheless, gambling companies like William Hill, 888 Holdings, Playtech, and Ladbroke Coral have varied investments in the areas of marketing, technical support and development in Israel.
Since the blockage, gamblers who visit the site are always met with a message that the sites are prohibited by law.
But senior programmer Ran Bar Zik believes "DNS blocking of vendors is technically ridiculous" and called for a more logical approach to the problem of offshore casino sites.
"Almost every surfer in Israel has bypassed the providers' DNS and has broken the state's ability to use this block, and there are dozens of YouTube videos in Hebrew that explain how to bypass this block in 30 seconds," he said.
"They are ridiculous and just wasting precious public time and money.
"[If] they want to fight illegal sites, locate their Israeli owners and sue them, and instruct the Israeli credit card companies not to clear the companies behind these sites, and act legally against those sites in the countries where they are registered."
More gambling news