How to play live dealer keno
How to play live dealer keno
Ezugi's live dealer keno is an exclusive and unique online casino game that has gained some serious popularity since its introduction. A one of a kind title, this live variant of keno gives players the opportunity to watch a live stream of a professionally employed croupier call out the randomly drawn balls from the keno hopper, and select and place wagers on the numbers they think will be drawn.

Best online casinos for live dealer keno
---
How to play Ezugi's real money Live Keno
Following registration, you will be able to make your way to the live dealer gaming lobby at GDayCasino.com (under Live Casino) and select the live dealer keno title. Live keno rounds are drawn every three minutes, so if you enter the game during the middle of the round, you will not have to wait too long for the next round to start betting.
The game is played with 80 balls, numbered 1 to 80
20 balls are randomly drawn every round
When betting, the player can select up to eight numbers per round
Minimum and maximum betting limits range from $1 to $50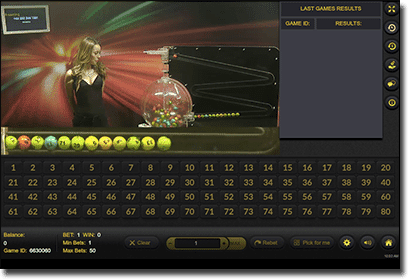 Inside the game, you will be shown the live video feed of the host and the keno hopper, along with a tube where all 20 drawn numbers come to rest. A count down timer for the next round of play is also displayed in the upper right corner of the video feed.
Adjacent to the live feed is a window that displays the potential payouts (winnings), betting history, the option to chat live with your keno host, access to the settings, switch to full screen mode and other customisable features.
Below the live streaming keno action is the betting interface, where players can select the numbers they wish to cover, and can choose and adjust his or her betting stakes. Players also have the option to re-bet (pick the same numbers and stake from their previous round's selection) and also to allow the computer to select numbers for them (the 'Pick For Me' feature).
---
Betting regulations and winning payouts
Depending on how many numbers you choose, your payout odds will differ. The fewer numbers you select, the smaller the payout odds will be, with eight selected numbers offering the highest return (as shown below):
Live keno pay table (when eight numbers have been picked)
Four hits: 4 to 1
Five hits: 15 to 1
Six hits: 50 to 1
Seven hits: 200 to 1
Eight hits: 1500 to 1
When eight numbers have been selected, you will receive a return if four of your numbers are successfully drawn. Obviously, when fewer numbers are chosen, you are going to receive a payout if less than four of your balls are successfully drawn – the trade off is the fluctuation of the payout odds.
All winnings are automatically credited to your account, and you can always get in touch with the live support team on standby to answer any of your queries. Read our guide to learn more about the best keno strategies.
---
Where to play live dealer keno
Currently, G'day Casino is our only active online and mobile casino site that offers this unique variant of keno. Register an account with G'day Casino and make the most of the new player welcome promo – an unlimited matched deposit bonus, along with 50 free pokies spins and a slab of Tooheys beer (for deposits of $100 and more).
G'day Casino deals with AUD currency for all its Australian members, and own several globally trusted deposit and withdrawal methods such as credit and debit cards, e-wallets, pre-paid cards and direct wire transfers. All financial transactions are protected with the latest secure socket layer digital encryption technology to ensure all personal details and money is safeguarded.
The game itself is operated out of a licensed and regulated studio, with technicians and adjudicators on hand at all times in case any issues arise. Any action that is out of the ordinary, and that may interfere with the integrity of the game, and the host will call for a replay, with all bets refunded.
Downloads/installations are not required to enjoy this title – simply open any of our live keno links and you can begin playing directly from your Web browser. The quality of the live video stream is dependent on your Internet connection. but if you have ADSL1 or better, quality should not be and issue.
Live dealer keno is only available to play within real money mode, as the costs involved in running the game do not lend themselves to a practice mode version. Players can enter the game without placing a bet for approximately ten minutes (so you can get a feel for how the game operates), before they are disconnected due to time constraints.
G'day Casino will never share your personal information with third parties, and is licensed and registered by the United Kingdom Gambling Commission.
Play live dealer keno at Gday Casino for real AUD money and enjoy the combination of convenient online gaming and the authenticity of having your game operated by a real person.