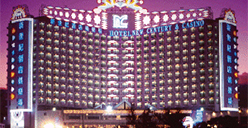 Macau's Greek Mythology casino resort will remain closed, the gaming regulator has confirmed, putting to bed rumours that the casino would be re-opening in the coming days.
The Beijing Imperial Palace Hotel and its Greek Mythology Casino were closed in July 2016 and December 15, respectively, and had six months from August to reach building and safety standards.
It was the first five-star casino in Macau to be shut by the government.
The Macau Government Tourist Office (MGTO) ordered the temporary closure of the Beijing Imperial Palace Hotel after its operator, Greek Mythology (Macau) Entertainment Group Corp Ltd, committed "serious administrative irregularities, constituting threats to public safety".
"So far, the DICJ has not received any plan for re-opening of Casino Greek Mythology from the gaming concessionaire," the gaming regulator said.
Despite having been closed for almost a year, the casino doesn't risk losing its gambling license as a result of such a long closure.
Currently, there is no law stating a property closed for a certain period needs to reapply for a license.
"The current regulation has no specification on how long [a] casino can suspend operation," DICJ explained.
The initial closure was based on a number of infringements, including illegal construction work performed in the hotel.
This work has been on-going for "at least two years", however the MGTO had given hotel management a six-month deadline to correct the breaches and apply necessary improvements or risk permanent closure.
The Beijing Imperial Palace Hotel breached a number of compulsory safety measures according to the MGTO.
Director of the body, Maria Helena de Senna Fernandes, noted a lack of fire extinguishers, a defective emergency lighting system, blocked exits, obstructed escape routes, malfunctioning smoke chambers, the use of decorative materials without fireproofing, and excessive storage of fuel as among the issues at the heart of the closure.
The casino resort will remain closed for the foreseeable future, and its future remains in doubt. Following the hotel's closure, junket investor Amax Holdings, which owns a one-quarter stake in the property, suspended trading in its shares. Amax has been involved in a tussle with the property's operator, with the holdings firm claiming it hasn't received "valid financial information" about the business.
Interested in gambling online instead? Check out our guide to the best online casino sites. There are online casinos available to players from United States. We highly recommend BetOnline Casino as the safest and best online casino providing support for players from United States.