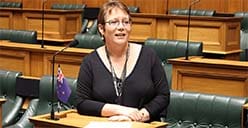 New Zealand Minister for Internal Afairs Tracey Martin is advocating for changes in the country's gambling laws to stop local television from advertising online casinos.
She says the government needs to "put in place updated legislation to manage" and absorb new developments in the gambling space, which were not anticipated during the last update of the gambling laws in 2003.
A Kiwi news publication has been raising concerns about television advertisements for JackpotCity's free-play site, which features the same games as Jackpot City's Malta-licensed online casino.
The adverts, some claim, are to lure potential customers into spending at the real money version of the casino.
It is true that if you Google search Jockpot City the real money version of the website is at the top of the rankings, and also accepts players from New Zealand.
This loophole has been closed in other countries but currently there is no law stopping online casinos from advertising their free play offering via popular media channels in New Zealand.
Minister Martin said her department had written to JackpotCity Casino and MediaWorks, the operators of the TV station in question, saying they had "breached the intent of the law".
She added that her department suggested to MediaWork to consider not airing the ads but has not received response from them yet.
Martin said the people can make a difference and urged the public to "start writing multitudes of letters to the CEO" of MediaWorks to express their displeasure until new laws are introduced to stop the ads for good.
Martin also asked the masses to call on "all the credit card companies" to stop processing any payment for online gambling sites, barring the Government-backed TAB.