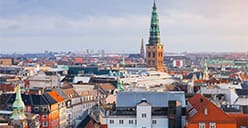 Online gaming accounts for more than half of total gambling revenue in Denmark, according to the country's gambling regulator.
Spillemyndigheden revealed in its yearly report that online gaming revenue exceeded that of land-based gaming by a wide margin.
Internet gambling made up 51.5% of the country's total gambling revenue in 2017, compared to the 47.4% recorded in 2016.
Most of that amount came from lotteries, which yielded DKK3.1 billion of the total DKK9.2 billion (€1.24bn/$1.53bn) in gambling revenue for 2017.
Sports betting was also a big contributor, generating DKK2.3 billion from both online and land-based operations.
Revenue from online casinos rose 15.5% to reach DKK1.8 billion, while land-based casino takings stood at DKK375 million and those from gaming machines outside of casinos declined by 1% to DKK1.49 billion.
Spillemyndigheden's report revealed that half of Danish sports bettors are males aged 35 years and below.
The average punter spends DKK38.50 per week, which puts Denmark third in the world for per capita spending on sports betting and casino games.
All told, gambling revenue is now the second-highest source of income to the Danish government.
SEE MORE ONLINE GAMBLING UPDATES: LATEST CASINO NEWS