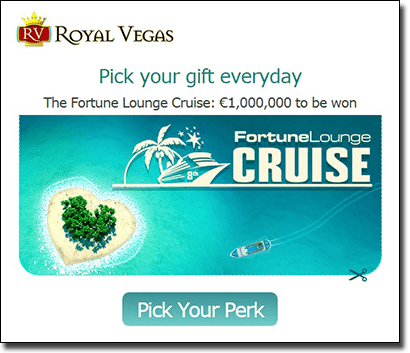 To crank the excitement levels to full blast during the last half of June, Royal Vegas Casino is running a spin-off promo in association with the massive upcoming Fortune Lounge Cruise giveaway; the daily Pick a Perk promo.
This sweet offer means that every day from the 15th of June to the 28th of June registered players get a free gift every 24 hours. All you need to do is sign into your account and click on the promotions tab in the casino lobby. You'll be given the choice of two different gifts, with a different pair of prizes available every day.
To claim your daily prize, simply click on your preferred perk of the two and it'll be automatically credited to your account. Gifts are only available for 24 hours, so if you miss your chance to claim your daily prize you'll have to wait til the next day to see what's newly available.
Daily perks include:
Extra RVC reward points
RVC casino credits
Free spins
Matched deposit bonuses
These daily prizes can then be used to rack up more reward points, giving you a chance to go into the major prize draw for the Fortune Lounge Cruise tickets. If you haven't already heard about the Fortune Lounge Cruise promotion, it's one of the biggest promotions offered by any online casino and it happens annually at Royal Vegas Casino.
28 lucky players and their partners get to take to the high seas to enjoy an all-expenses paid luxury trip, with casino affiliated festivities running on-board to present even more chances of winning during the cruise.
It's the big one, the mouth-watering prize that's had hopeful punters flocking to RVC since the promo started in May and with the draw open until the 31st of July, you've still got plenty of time to secure your place in the running.
It's all about the loyalty points – for every 200 points you earn, you'll receive one entry to the major prize draw, so all you need to do to be in the running is play your favourite online casino game for real money wagers. The added bonus here is that you'll still keep any winnings you make along the way. The Pick a Perk promo gives you even better chances of getting your name in the draw, for less out of pocket expenses.
If you're not a registered player, head to RoyalVegasCasino.com today to sign up and take advantage of up to $1,200 in welcome bonuses. You may miss the Pick a Perk Promo but you'll still be in a chance for the almighty cruise tickets.