Ukash has been a popular payment method at a majority of our recommended online casinos like www.RoyalVegasCasino.com for years now and it was recently announced that Ukash has been acquired by Skrill Group, merging to become part of the Paysafecard brand.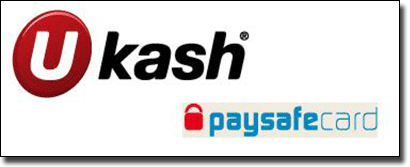 Both Ukash and Paysafecard are popular e-voucher payment systems, allowing users to spend money safely and securely on the Web without having to disclose their personal or financial details. This type of payment method has become highly popular for online punters who are wary about their security when gambling on the Internet.
As both services work in a similar fashion the merger should flow without any problems to dedicated Ukash users and the changes shouldn't have any negative effects. The only thing that Ukash customers need to be mindful of is that from the 31st of August 2015 onwards, Ukash vouchers will no longer be for sale, and any existing Ukash voucher will not be valid for use after the 31st of October 2015.
If you have a Ukash voucher with credit on it, mark the October date in your diary to make sure you don't risk forfeiting any of your funds.
Between now and the October cut off, you'll still be able to transfer any existing Ukash funds over to your new Paysafecard account, so you don't have to go and blow your existing Ukash voucher in a desperate attempt to use the remaining funds.
If you have a registered account with Ukash, keep an eye out in your inbox for an email with further details about the merger. The email will also contain information about how to complete the transfer of your Ukash account over to Paysafecard.
Don't fret if you haven't received the email or it has slipped through the cracks, simply log into your online Ukash account and follow the instructions on how to complete the transfer. We recommend you do this as soon as possible, as changes to your Ukash account won't be allowed after the October 31st deadline.
If you're a Ukash customer who buys your e-vouchers from a land based outlet, your only choice is to either set up an online account now in order to transfer your funds to Paysafecard, or simply make sure you spend your Ukash voucher before October 31st. You'll still be able to purchase Paysafecard e-vouchers from the same outlets you bought your Ukash vouchers, so setting up an online account remains optional.
The Skrill Group is a big player in the online payment system game, with their main product being the Skrill digital wallet (formerly known as Moneybookers), which is widely accepted at all leading online casinos. Skrill acquired Paysafecard in 2013, expanding the e-voucher network to over 480,000 outlets across 39 different countries.
The recent take-over of Ukash suggests that The Skrill Group is determined to dominate the online payment system market. You'll find deposits accepted using Skrill, Paysafecard and Ukash at our favourite online casinos including Royal Vegas Casino.
Paysafecard and Ukash both follow the same format, where customers buy a voucher in exchange for a 16 digit pin number. The pin can then be used to spend money online just as though you were using cash.
When gambling online, head to the casino cashier and select either Ukash or Paysafecard as your chosen payment method, enter the amount of money you wish to transfer along with your 16 digit pin and the funds will be added straight to your account.
In a press release earlier this year, CEO of Paysafecard, Udo Müller remarked, "The acquisition of Ukash will bring together two prepaid technologies with strong synergies, enabling even more customers to pay online as safely and easily as with cash. Ukash increases Paysafecard's global presence and will open up new opportunities for online businesses."