How to play Pai Gow poker
How to play Pai Gow poker
All the best Australian casino sites offer real money pai gow poker online. For secure, fully licensed gaming on your desktop or mobile device, check out our recommended gambling websites below.

Pai Gow Poker real money Web casinos
These listed Web casinos all accept Aussie players, use top software providers like Microgaming and Net Entertainment, and are approved by leading digital auditors such as eCOGRA (eCommerce Online Gaming Regulation and Assurance).
Pai gow poker is a modern hybrid of the traditional Chinese board game, pai gow, and table games such as Caribbean stud and casino hold'em. While it say seem complicated at first glance, it is actually a simple, fun, low-risk game which requires little more than a basic knowledge of poker rankings.
---
How to play pai gow poker
Pai gow poker is played on a regulation casino table, much like blackjack and pontoon. It uses a deck of 53 cards which includes a single Joker – a partial wildcard that can substitute for an Ace or complete a straight, flush, or straight flush. The other 52 cards follow standard poker rankings (Deuces low, Aces high).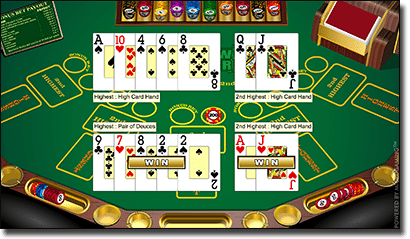 Once all bets are placed, the player and the dealer each receive seven cards. The house's hand is dealt face down. Now, the punter must split their hand into two parts: a five-card high hand and a two-card low hand. The five-card hand must always outrank the two-card hand – so if your low hand is a pair of Aces, for instance, your high hand must be at least a two pair.
We should note here that both hands adhere to standard high-hand poker rules. Unlike other split-hand games like Omaha hi/lo, where the second hand follows a different set of rankings (usually Ace to Five lowball), the low hand in pai gow simply refers to the weaker of your two poker hands.
After each player chooses their high and low hands, the dealer reveals his or her cards and does the same. As with blackjack, baccarat and most other casino table games, the croupier follows a specific set of instructions every time for any given situation. This is called the 'house way'.
Now, all player hands are compared against the dealer's. If both your high and low hands are stronger than the house's, your bet pays out at 19 to 20 odds (i.e. even money sans a five per cent commission). If you win one hand but not the other, the bet pushes. If you lose both hands, you forfeit your bet. When a hand is tied (e.g. both house and player have two Sevens on the low), the win is awarded to the dealer.
---
Best pai gow online poker games
Micorgaming Pai Gow Bonus Poker – This is probably the most widely available of all the digital pai gow poker titles on the Web. If you like side bets, this is definitely the way to go. You will find it under the 'Other Table Games' section at all Microgaming casinos, including RoyalVegasCasino.com.
Play'n Go Pai Gow Poker – If its pure, refined casino gaming you want, we highly recommend the Play'n Go version at multi-developer casinos such as Thrills.com. There are no bonus bets in sight, the graphics and gameplay are clean and classy, and the 'House Way' option is a welcome convenience for players of all levels.
BetSoft Pai Gow – Like so many of its virtual table games, BetSoft's pai gow poker release is ideal for Australian punters who don't need bells and whistles to enjoy real money gambling online. It's not as flashy as Play'n Go PGP and doesn't have the Microgaming bonus options, but it's well made, easy to use and delivers just what it promises.
---
Hand rankings
Pai gow hands follow the same basic ranking system used in most forms of real money poker. Here it is, from strongest (top) to weakest (bottom):
Royal flush
Straight flush
Four of a kind
Full house
Flush
Straight
Three of a kind
Two pair
Pair
High card
Pai gow rankings do feature one very curious deviation from the norm. In standard Texas hold'em poker and other high-hand games, Ace high (10 J Q K A) is the top-ranked straight and Six high (2 3 4 5 6) is the lowest. Pai gow, however, also includes a lowball poker hand called 'the wheel' (A 2 3 4 5), which ranks second only to the Ace-high straight.
---
Online pai gow strategy and house edge
The best way to play pai gow poker depends largely on two factors: the house way, and whether you are playing online or in a land-based casino.
Software developers and real-time operators often use slightly different house way rules to one another. This can affect your ideal move in certain situations, meaning the standard play in version A might not be the best option in version B, C, or D.
And while most Internet pai gow games feature very simple betting rules, brick-and-mortar casinos traditionally allow you to bet against other punters and the dealer. Players and croupiers take turns to act as the banker in land-based pai gow poker, and it is possible to increase your chances of success by adjusting your play depending on who's banking.
The simplest pai gow poker strategy is to mimic the dealer. Many online versions make this easy by offering a 'House Way' button. With this method, the casino edge comes to around 2.72 per cent – partly because of the 5.0 per cent commission on standard payouts, partly because the dealer wins all tied hands.
Optimal strategies can shade up to 0.2 per cent off that figure, but they can be quite complex and require a little bit of time and patience to learn. More basic pai gow strategies can produce an expected return of around 97.31 per cent.
---
Pai Gow betting options and bonus payouts
Like online blackjack, most games of pai gow poker feature one standard wager (to win both hands). Aussie casino sites offer very affordable table limits, with real cash bets starting as low as $1 per hand.
However, a few variants also allow side bets where you can earn increased payouts for certain starting hands, regardless of whether or not you win your original wager. For example, this is the payout chart for Microgaming's popular Pai Gow Bonus Poker game:
| Initial hand | Bonus payout odds |
| --- | --- |
| Natural seven-card straight flush | 8000 to 1 |
| Royal flush + Deuces | 2000 to 1 |
| Joker seven-card straight flush | 1000 to 1 |
| Four Aces + Joker | 400 to 1 |
| Royal flush | 150 to 1 |
| Straight flush | 50 to 1 |
| Four of a kind | 25 to 1 |
| Full house | 5 to 1 |
| Flush | 4 to 1 |
| Three of a kind | 3 to 1 |
| Straight | 2 to 1 |
As with all casino side bets, these pai gow bonus payouts flatter to deceive. While the potential rewards are certainly there for all to see, they are severely undercut by unlikelihood of drawing such hands. The table above raises the house advantage by around 5.8 per cent, so the shrewd bettors out there would do well to stick with the standard pai gow wager.