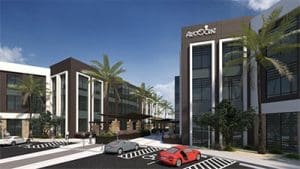 One of Australia's biggest pokies manufacturer has followed the path of many gamblers Down Under by moving to Las Vegas.
Leading poker machine manufacturer, Aristocrat Technologies, has based its operations in Australia for 64 years, but now only 20 percent of its operations take place in the country.
Around 65 percent of its business is currently handled in Nevada – so the overseas relocation makes sense.
The company's headquarters will now be based at an 180,000 square foot Summerlin facility in Las Vegas.
Last week, major real estate company, Howard Hughes Corp., hosted an event to celebrate the commencement of the facility's construction.
Among the attendees was Nevada Governor, Brian Sandoval, who said he is proud Las Vegas is "the entertainment, tourism and gaming capital of the world."
He added that the state wants "to be the innovation and thought leader in the world, in regard to gaming, and that's where Aristocrat comes in."
The new facility, envisioned by Ed Vance & Associates Architects and constructed by Martin-Harris Construction, will be completed in 2018 where several of Aristocrat's Las Vegas facilities will move to.
The campus will host 600 employees across two three-storey buildings with 90,000 square feet concrete structures.
Aristocrat managing director of the Americas, Matt Wilson, said the campus allows for the company to reposition itself in a global market.
"We're going to bring in all of our employees in here to collaborate in an amazing space," he said.
"The building itself is world-class. Today's ground-breaking (event) represents more than just a physical move for Aristocrat, it represents a mind shift."
Aristocrat CEO, Trevor Croker, announced the move earlier this year,
"We have a wonderful core business, and the key is not to take the eye off the ball there," he said in February.
"But it is about leveraging what we have… North America is a big focus and digital focus."
Aristocrat's more recent games have ventured into popular culture, with pokies based on "Game of Thrones", "The Walking Dead" and "Batman".
Mr Sandoval believes these games like these will help Las Vegas grow.
"We're talking about skill-based gaming and the e-games and e-sports and all these different opportunities," he said.
"Nevada always embraces these new opportunities, we embrace them, we build on them and we make them better and that's what makes us a leader."
He added that the new building will be home to incredible innovations which will make "history".
Aristocrat initially rejected the idea of moving to the suburban location since it is not located in the dead centre of the strip.
But the 15-minute drive may improve operations.
A Summerlin community spokesperson said the work-life balance will be enhanced at the new Aristocrat facility as it is close to parks, golf courses, walking trails and more.
"Summerlin has more than 150 miles of trails that the Aristocrat employees can avail themselves to," president of the Howard Hughes Corp, Kevin Orrock, added.
"Within a short drive is 1.4 million square feet of retail, entertainment and more than 30 dining options.
"The goal is to enhance both the quality of life and quality of workplace."
If you want to find a range of poker machines to play from the comfort of your own home from United States you can find a range of titles at BetOnline Casino.