It's located on a little-known island in the middle of the Pacific Ocean, but Best Sunshine Live casino is trumping the big boys of Macau and Las Vegas.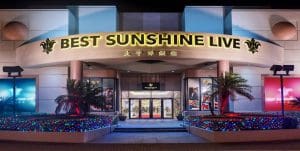 Such is the Saipan casino's financial success that US financial authorities have their sights set firmly on the property's books.
Bloomberg reports the success of the casino, which is owned and operated by Imperial Pacific International Holdings, has lead to back-to-back months in almost $4 billion in VIP turnover.
Saipan being part of the Northern Mariana Islands (CNMI), a commonwealth of the United States, has prompted the US Treasury Department's Financial Crimes Enforcement Network to look into the activity at Best Sunshine Live.
The small casino – located on an island with a population of only 48,000 – has 16 VIP tables including multiple baccarat tables. Some quick calculation determines that each table generated more than $170,000 in revenue every day in the first half of 2016, which beats out some of Macau's major casinos.
Imperial Pacific CEO, Mark Brown, hit back at the report, telling Bloomberg that the figures seemed unbalanced next to those out of Macau because casinos in the gambling mecca often went underutilised, driving down the average revenue across each VIP table. He also claimed that Macau casinos underreport revenue to keep profits off the books, but that Imperial Pacific was "very transparent".
Best Sunshine accommodates approximately 750 registered high-rollers. Mr Brown said he was unaware of any investigation by the watchdog, but that as a precaution the company was prepared to enhance its anti-laundering strategy.
Imperial Pacific recently added some important figures to its board, which it says would "enhance its integrity". Among the additions to the board were former CIA director, James Woolsey, and former US military judge, Eugene Sullivan.
Interestingly, Best Sunshine isn't the only casino in the CNMI region to come under scrutiny. In 2015, Tinian Dynasty Hotel & Casino was hit with a $75 million fine for "violations of the Bank Secrecy Act". Its owner soon filed for bankruptcy, and the casino lost its license.
As of late 2016, the Best Sunshine casino is a temporary property while Imperial Pacific's permanent Saipan casino is under construction. It's expected to open in February 2017.
Playing at online casinos
Best Sunshine Casino may be a little too remote for most players, but there are plenty of online casinos available to players from United States. We highly recommend Slots.lv as the safest and best online casino providing support for players from United States. Find out more about the online casino games on offer.