Residents of the Millers Point suburb in New South Wales have filed a court case against Crown Resorts' planned multi-billion dollar casino resort construction taking place in Sydney's Barangaroo precinct.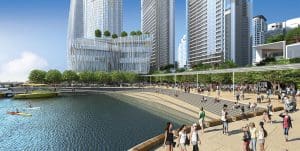 The New South Wales Land and Environment Court will hear the case on Tuesday, and if the residents are successful in their pursuit of Crown Resorts, the outcome may delay the Crown Resorts' proposal, which has already faced multiple set backs. Reports suggest that if the case is successful, this may even derail the entire project.
The New South Wales Planning Assessment Commission approved the project this summer, however the gambling operator now must manoeuvre its way around this next hurdle in order to go ahead with the build.
The project is a planned 271 metre tall hotel tower (a six-storey building), and it has been argued by residents of Millers Point and other opponents that the complex will take up far too much public space.
Initially, the project had been planned to be constructed over Barangaroo's shore. However, that idea was dismissed after considerable backlash.
Crown Resorts has since promised to build the property to be compatible with a larger foreshore walk and more open public space, and the project had been expected to be completed and launched in 2021. That date now remains an uncertainty.
Crown Sydney (the name the complex has been assigned) has been ordered by the New South Wales government to cater mainly to VIPs and high rollers, and not to feature any slots machines or video poker machines.
Additionally, as a result of the recent crackdown on 18 Crown Resorts' employees in China, which included three Australian citizens, the company has been placed under a bright spotlight, and so the future of its VIP operations and activities are under heavy scrutiny.
Chinese gamblers make up a majority portion of Crown Resorts' clientele, and reports have suggested that the detention of the employees for criminal behaviour may result in more Chinese VIP gamblers leaving Crown casinos.

It seems the project is destined to go ahead, regardless of court hearings or the crackdown on the gambling related criminal activity in China. Crown Resorts is just too big a business to fail, and there is too much money at stake of which the government will lose, if the project is not approved. So while residents may succeed in some way, shape or form, potentially reducing the ultimate size of the building, we will more likely than not see another Crown casino unveiled in the coming years north of the Sydney CBD.
Playing at online casinos
If you can't make it to one of the Crown Casinos, there are plenty of online casinos available to players from United States. We highly recommend BetOnline Casino as the safest and best online casino providing support for players from United States.