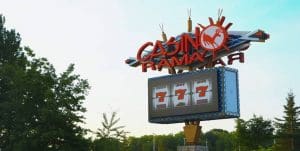 Sensitive data including employee and vendor information has been stolen from a major Canadian casino, the second time a casino in the country has been hit this year.
The Casino Rama Resort in Ontario says a cyberattack targeted the data, with management warning there was a significant risk that the information will be published online.
The hacker is claimed to have stolen financial reports, collection and debt information, as well as patron credit inquiries. Staff payroll data was also targeted.
Social insurance numbers dated back to 2004 and other data dated back to 2007 is said to be in the hands on the hacker.
With about 3 million people visiting the casino, which is approximately two-hours drive from Toronto, the Casino Rama Resort is one of the largest in the country.
It has more than 2,500 slot machines and more than 110 gaming tables, with eight restaurants and a 5000-seat entertainment venue servicing visitors. There's also a 300-room hotel.
Gross revenue for the fiscal year ending March 2015 was C$348.3 million, part of the C$1.16 billion in gambling revenue that Casino resorts brought into Ontario.
It is operated by CHC Casino Canada Limited, which is an indirect subsidiary of Penn National Gaming. The parent company has yet to comment on the intrusion.
Interestingly, this isn't the only time a Canada casino has been the victim of a major hack, and it's now the second casino that sits on aboriginal land that has been targeted.
In March, the River Cree Resort and Casino in Alberta was also hacked.
In our increasingly digital age, it's important to be able to trust those we provide sensitive private and financial information to. While I doubt this will have long-lasting consequences for the casino, it's a big hit in the trust stakes, and raises questions about the motives and inner-workings of a casino to prompt someone to do this. Whatever the reasoning, it's imperative that we can trust places like a casino that our data is safe, and Penn National has a lot to answer for.
Is it safe to play at online casinos?
Online casinos have strict security measures in place to protect online players, and there are plenty of online casinos available to players from United States. We highly recommend BetOnline Casino as the safest and best online casino providing support for players from United States.