Following the announcement of the Tatts and Tabcorp 11.3 billion merger, rumours are spreading International Game Technology (IGT) are getting in on the action.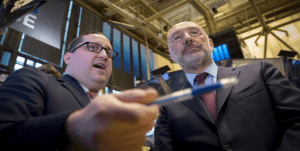 The Australian Financial Review has reported both IGT's Chief Executive, Marco Sala, and Chief of International Business, Walter Bugno, have landed in Australia sparking rumours one of the biggest gaming companies in the world is looking to purchase the Tatts Group's lottery business.
It isn't clear just why the two have made the long haul flight to Down Under, which has only added fuel to the fire and while the Tatts and Tabcorp deal seems like a sure thing, there has been calls for Tatts to sell their lottery business separately.
This has given cause for industry observers to speculate the two heavyweights are here for just that and have have added this could be a cue for suitors to look at the numbers from the deal.
What's more, Bugno, who has previously worked for Tabcorp, has always shown his desire to expand further into the Australian market, especially given the IGT share of the video poker machine market here dropping from 25% to 15% in the past few years.
While Sala and Bugno were in Australia in August to improve these numbers, the addition of Tattslotto would surely improve the market share and this has left many to wonder whether this will indeed see IGT, which already has a huge lottery division, purchasing Tatts business.
Other observers suggest IGT have a better chance of snagging the division once the deal between Tabcorp and Tatts is completed, especially given Bugno's connections as a former chief executive of Tabcorp.
And while the two could just be in town to attract new clients and propose new International business strategies for their own lotteries division, industry insiders can't help but consider the predicament this would put the Tatts' board in. Would they take a cash bid for just a part of their lottery division, or opt for the cash and scrip deal for the entire business?
We have to agree with the observers – it would be quite unusual for the Chief Executive of IGT, Marco Sala to make the trip to Australia just to snag new clients, so perhaps the rumours could be true. Bugno's Tabcorp connections are certainly reason to believe these two are here to purchase the lottery business from Tatts and perhaps we will see the Tatts and Tabcorp deal cemented and the lottery division purchased by IGT.
Playing at online casinos
Did you know you can now play lotto games online? There are plenty of online casinos with lottery games available to players from United States. We highly recommend BetOnline Casino as the safest and best online lottery sites providing support for players from United States.