Online casino security systems
Online casino security systems
Safety when playing online is one of the biggest concerns expressed by real players. Online shopping took time to get use to but since the money goes straight in and a purchase is instantly made many people became satisfied with the safety provided by their payment choices. Since money is sitting in an online account when gambling – players need more. We look at what more is and why it can only be found at the most reputable online casinos. Below we will talk about the most secure online casinos and the security systems they use to keep players, their personal details and real money safe.

Real money casinos with security systems
---
Why is security important when gambling online?

When gaming online, we are entering personal information about ourselves, financial details such as credit and debit card numbers, and we are trusting our funds to be safe in an online account. An online casino therefore needs to be as secure as Internet banking. The good news is, many reputable online casinos meet this standard due to the many security measures they've taken, as required by overseeing regulatory gambling bodies.
We detail more online casino security systems below, but as an example, Malta Gaming Authority – a top regulator in the iGaming industry – has a strict criterion which online casino operators need to meet in order satisfy license requirements. Royal Vegas Casino is an example and has met the criteria of conforming 'to a high level of information security', which is why it can display the MGA logo.
If these guidelines weren't in place, then players would be vulnerable when it comes gambling online at the top real money casinos.
---
Types of real money casino security systems
There are several measures taken by reputable casinos, such as the many listed in the table above which meet the high level of security required to protect online casino players.
Advanced gaming regulators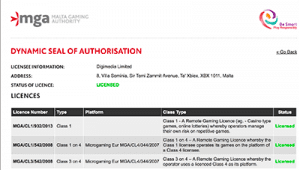 As we briefly detailed above, online casinos which are governed by third party regulators with high security policies are deemed as safe. Third party regulators which have the best security policies include Malta Gaming Authority, UK Gambling Commission, Government of Gibraltar, and Curacao e-Gaming Commission. You can find one or more of these regulators and their logos at the homepages of the online casinos listed above.
They ensure online casino operations are being run to high standards, encryption technology is used and all games have been tested as fair for players – and not rigged in the operators favour. The regulator can revoke their license from the online casino at any time meaning for the online casino to keep its reputation it must always adhere to these regulations.
Encryption technology – SSL and TLS
This is the best security system for players of Flash casinos – the technology works with your browser to protect every single detail entered to the site in question. All the online casinos we play at use this technology so when you are entering your name, address, credit card number and other information you are protecting yourself from outsiders hacking in and stealing it.
You can ensure the technology is enabled at these sites by the padlock in your toolbar – Safari, Chrome and Firefox will all show a small padlock in the URL bar if it is secured. Click the padlock and you can view the 'details' where it will feature if SSL or TLS certification is used. Both are modern forms of data protection technology and both use a public key and a symmetric key to protect the connection and your information.
There's multiple forms of SSL and TLS certification including SSL 3.0, TLS 1.0, TLS 1.1, and TLS 1.2. These are just varied forms of strong encryption services which work the best with the online casino.
You can learn about the encryption technology employed at each of our top gambling sites in our casino reviews list.
Testing agencies
Another requisite for getting a license is the games need to be tested. Third party testing agencies are required to do this so the reports aren't bias or manipulated. A top company is eCommerce Online Gaming Regulation and Assurance (eCOGRA).
Running since 2003, the London-based testing agency performs regular reviews on the Random Number Generator (RNG) software to ensure it is the payout rate the casino software provider has determined it to be. This is another reason why playing at top online casinos with reputable software providers such as Microgmaing, Net Entertainment, BetSoft, Thunderkick, Playtech (Secure Playtech slots) Play'N Go and more is so important – they've all had the games tested and their Return to Player percentage can't be altered.
---
Other security systems you can enable while gambling online
If you opt for instant play real money casino sites, which all our casinos offer, there's special security features you can enable when it comes to your browser to make gaming safer.
Chrome security features: Chrome offers players the ability to install security Adds Ons. One of the best is HTTPS Everywhere as it only allows access to secure sites. Another one is Web of Trust which determines whether a site is trustworthy with a small icon turning green if it is, red if it isn't and yellow if it is unsure. To install these extensions, click on the three vertical dots and then on 'settings'. Then click on the 'extensions' tab and on 'more extensions' where you will be able to search and install.
Safari security features: Safari offer extensions too – to access click on 'Safari Extension's in the drop-down main menu found in the top left hand corner. LastPass is a great extension to install for Safari as it manages all passwords, including online casino passwords, in the one secure place regardless of the device.
Firefox security features: The most popular security feature to install for Firefox to add extra protection when gambling online is NoScript Security Suite which only runs content from trusted sites and protects you from cyber-attacks. Install by clicking on the three horizontal lines in the top right hand corner and then on 'Add-ons'.