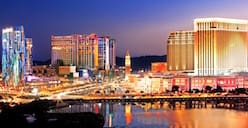 GOLDEN Week in Macau has gone off with a bang with a big jump in visitors in comparison to last year. This encouraging result has allayed the fears of investors who thought the downturn might continue.
According to the Macau Government Tourist Office, there has been a 27% rise in Chinese visitors to Macau in the opening days of October compared to last year. The numbers recorded in the first two days are the best in the last six years.
MORE: CASINO NEWS
Piggy-backing off the impressive growth, Last Wednesday we witnessed a 1.2 per cent rise on the Bloomberg Intelligence gauge of Macau stocks. MGM China Holdings Ltd increased by 0.8 per cent while Sands China Ltd. saw a 2.6 per cent rise.
The benchmark gauge of Macau since May has dropped by 36 per cent, while the industry also suffered some setbacks, including the shutdown of casinos due to a typhoon and the decline of high rollers.
Nonetheless, companies in the US with casinos in Macau saw their shares rise. Wynn Resort Ltd. shares increased by 4.5 per cent while that of Las Vegas Sands Corp and MGM Resort International grew by 3.8 per cent.
Casino operators had minimal expectations for Golden Week because the trade war between China and the US has slowed gaming revenue since the second quarter. But the rise in visitors numbers in the first two days has restored some hope in the industry.
"Positive drivers for Macau's Golden Week include the fact that Macau and Hong Kong still have the greatest appeal given better connectivity, ease of access and milder weather conditions," Bloomberg Intelligence analyst Margaret Huang said.
Are you in Macau? Read about the online casino games available.