Grim Muerto pokies review
Grim Muerto pokies review
The Day Of The Dead has kicked off a spiritual celebration! Play'n Go's latest pokies fiesta, Grim Muerto, is a lively romp of Mexican melodies and caricatures, offering a balanced gaming experience with a nice variety of free spins and big wins. Its unique look and easy-to-play interface make it a worthy addition to the Play'n Go lineup.

Play'n Go pokies casinos to find Grim Muerto
---
How to play Grim Muerto
Grim Muerto by Play'n Go software offers fantastic gameplay variety. This 5-reel, 20-paylines game offers a $0.20 minimum bet, with a solid jackpot of 250,000 coins. A wide betting range makes it an accessible game regardless of bankroll, and its second chance feature, in which you can win cash prizes or free spins on only two scatter symbols, means the action and reward is constant and ever-changing.
The specifics for the game are as follows: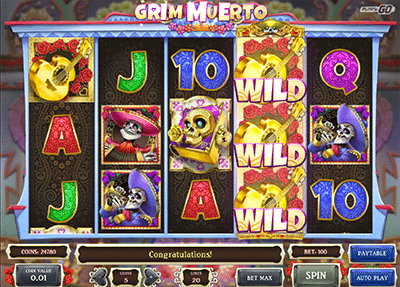 Coin sizes – 0.01, 0.02, 0.03, 0.05, 0.10, 0.20, 0.25, 0.30, 0.50, 0.75, 1.00
Minimum bet – Level 1 x 0.01 = $0.20 bet
Maximum bet – Level 5 x 1.00 = $100 bet
Auto-play Option – Yes
Wild – Yes (Guitar symbol replaces all other symbols on the reel, and a random wild reel replaces all symbols with the wild)
Bonus rounds – Yes (Stacked Wilds, Wilds, Second Chance, Cash Prizes)
Free spins – Yes (10 free spins with extra Wild and extra Stacks symbols)
Jackpot – 250,000 coins
Progressive – No
RTP – 96.51% (house edge of 3.49%)
---
Audio and graphics
Grim Muerto is a lively romp, with chirpy music and slick animation to compliment the Mexican theme. The attention to detail is top-notch, and even the skeletal bonus characters have their own names. These four characters double as second chance options, and you might be tempted to side with Tauro the trumpeter over Fernando the fiddler.
The process is entirely random, of course, and you have a 1:4 chance of winning the free spins or a cash prize, but it's the subtle musical cues in this instance that may persuade you to choose a favourite character and stick with them. It's purely aesthetic and has no bearing on the outcome of a spin or feature, but it's hard not to admire Grim Muerto's festive design.
---
Grim Muerto gameplay and bonus features
Grim Muerto is a simple pokies game, and as such there are only a few bonus features. However, the game's smooth design and gameplay make it incredibly easy to understand the fundamentals, and its great second chance feature offers an accessible means of initiating the highly rewarding free spins bonus. It's brimming with Wilds, and its dynamic reel that moves randomly with every spin enhances the game's sense of excitement and mystery.
You can play for fun and test out Grim Muerto's exciting offerings at a number of our recommended casino sites. Learning the basics and understanding its random Wild reels and second chance feature will ensure you get the most out of your time playing this joyous browser-based game.
---
Scatters and Wild symbols
Free spins: To win the free spins in Grim Muerto, you'll need to land the book scatter symbol on reels 1, 3 or 5. Landing three scatter symbols will reward you ten free spins.
Second Chance: Grim Muerto's second chance feature is where things get really interesting. If you land two scatter book symbols, you'll get the opportunity to win 10 free spins or a cash prize, generally between 200-300 coins. Four character symbols randomly house a prize, and you'll choose one to unearth your reward. If you find a scatter symbol, you'll win the free spins.

It's a nice way of increasing the number of free spins you get, as the 1:4 chance of finding the additional scatter symbol is nicely balanced next to the chance of winning a cash prize. The free spins tend to award more in the way of coins, but the chance of a few hundred extra coins on only two scatter symbols is a nice way of keeping the Grim Muerto experience worthwhile.

You can earn additional freebies by landing one or two candle scatters on reels while playing your free spins. That means that you free spins can be boosted from 10 to 13, 16, 19, and even more!

Wilds: The four characters in Grim Muerto — Amador the accordionist, Tauro the trumpeter, Fernando the fiddler and Vincente on the vihuela — act as four of the game's Wilds. A fifth Wild — the guitar — can extend and take over the whole reel. That's the Wild symbol you're looking out for.
---
Where to play Grim Muerto
You can play Grim Muerto at many of our recommended sites that host Play'n Go online pokies software, with our top-rated slots venues listed in the casino table at the top of this page. All of these casinos are verified by industry watchdogs like eCOGRA, are safe and regulated for player deposits, and have hundreds more games on offer from Play'n Go and other game developers.
---
The Final Verdict
Grim Muerto is a simple yet highly rewarding instant-play pokies game. Its numerous Wilds make every spin exciting, while the second chance feature means your chances of winning on only two scatter symbols are greatly boosted. With balanced and simple gameplay, random golden Wild reels, and a joyous theme, Grim Muerto is an apt addition to the Play'n Go pokies lineup.