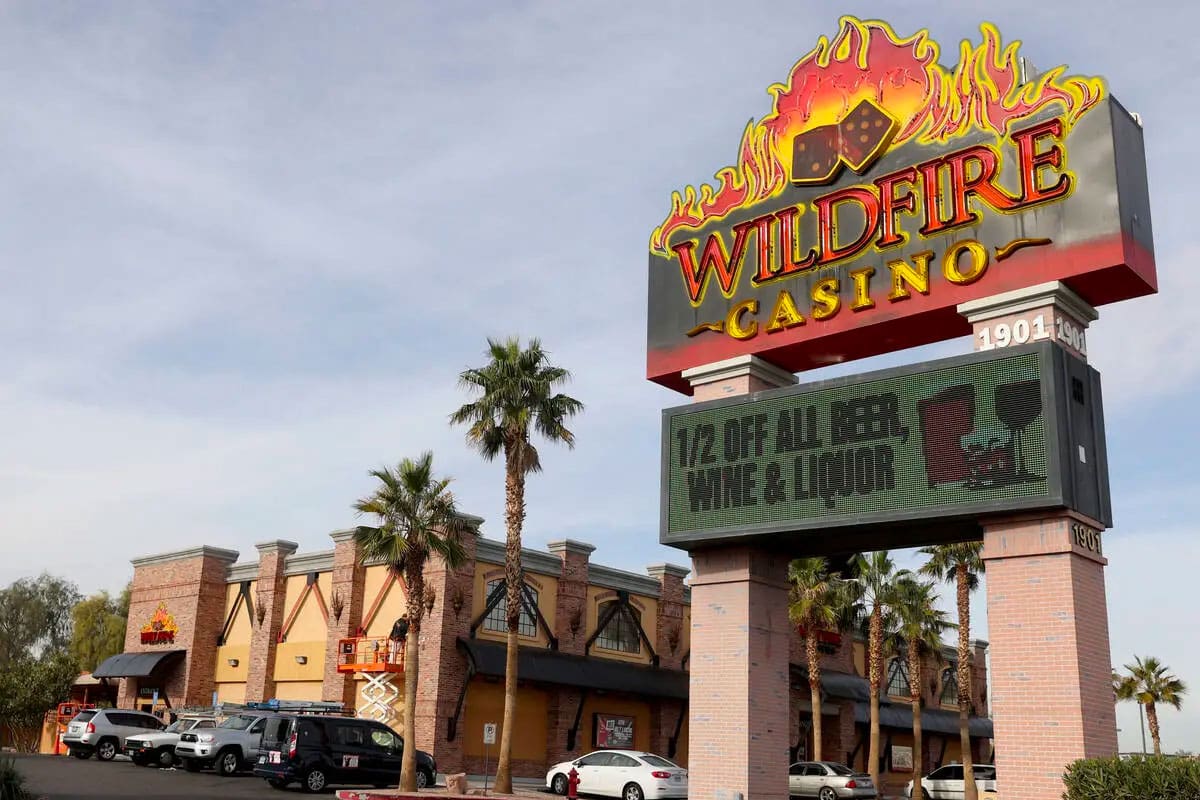 Las Vegas-based gaming company Stations Casinos is set to open its new Wildfire venue by early February 2023. The casino is being constructed in downtown Las Vegas, on Fremont Street, south of Charleston Boulevard.
According to the sign hung on the construction site featuring new branding, the new destination will have an improved look and feel. The project will be one story and occupy a total of 21,000 square feet.
READ: Red Rock Resorts to open new Wildfire casino in Las Vegas
The Vice President and General Manager of Wildfire Gaming, Joel Hampe, released a statement explaining that the new casino would bring only benefits to its neighborhood, much like the other Wildfire properties. Ahead of the launch, the Wildfire casino will reportedly hire around 45 people to occupy full- and part-time positions in December.
"This Wildfire, just like all Wildfire properties, is going to be a great addition to the neighborhood, and everyone who walks through the doors will enjoy the friendly environment of this new neighborhood casino. This Wildfire will offer our guests a new and elevated experience that they will love," Hampe said.
The parent company of Station Casinos, Red Rock Resorts, operates 10 Wildfire casinos, with seven situated in Henderson. The Rancho Drive Wildfire casino, located close to Lake Mead Boulevard, has around 150 slot machines in addition to a restaurant and a "no-fuss Vegas sports book that still brings its A-game".
The new Wildfire casino will have "new creature comforts" added to it, which will include 200 slot machines in its establishment, as well as a full-service STN Sportsbook. Other additions are electronic table games, an IHOP, 16 TVs spread around the bar, and Tacos El Pastor, a Mexican restaurant.
READ: Station Casinos buys 126-acre site in Las Vegas
Hampe explained that the new features was in a bid to give guests a more refined experience than they were previously afforded in the establishment.
"The brand has been idle for a little while with the look and feel, and we wanted to give the guests a new, elevated experience from what they were used to," Hampe said.
The Vice President further explained that a piece of that includes the recognition the brand got from the Station Casinos' Boarding Pass loyalty program and its food partners.
The Wildfire Casino construction comes as the east Las Vegas neighborhood faces even more changes. In 2004, Station purchased the former Castaways site and demolished the hotel. The land was sold to developers, and a 344-unit apartment complex with a mini storage facility was built. The property also housed a building to be occupied by the Southern Nevada Health District.
"Station has had the land for quite some time. We continually evaluate what we have going on, where we're building and where our plans are going to go. With the apartments being built and all the businesses that are increasing over there, we thought it was a good time that we wanted to join in and continue to make those improvements to that neighborhood," Hampe explained.
Station Casinos has a separate project under construction other than its Wildfire casino. The organization held a ceremonial groundbreaking in March for its Durango Casino & Resort. The event saw the attendance of Red Rock Resorts' CEO Frank Fertitta and 300 team members.
The hotel-casino is located in the southwest valley of Las Vegas close to Rhodes Ranch and occupies a 71-acre-wide parcel of land on South Durango Drive near the 215 Beltway. Durango Casino & Resort is expected to begin operations in fall 2023.