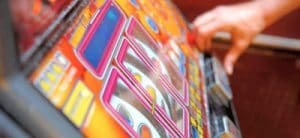 Punters are exploiting endless EFTPOS withdrawals at pokies venues, prompting one gambling expert to call for a daily cap.
The government banned ATM machines with $400 daily limits from gaming venues and their car parks in 2012, a move said to have skirted problem gambling.
However, punters can now use EFTPOS machines — which are generally provided or unlocked by the venue — to access unlimited withdrawals throughout a 24-hour period.
Unsurprisingly, a government report in 2013 found that since the ATM ban in 2012, EFTPOS services in pokies venues had jumped from 59.6 per cent to 96.6 per cent.
Monash University gambling expert Dr Charles Livingstone told the Herald Sun it was time the government stepped in to stop endless withdrawals.
"This is not about being a nanny state or stopping gambling," Dr Livingstone said.
"This is stopping a facility that is there to provide people with cash, that in many cases they can't afford, that is going straight into a machine."
Venues are required by law to hand back to players a minimum of 85 percent of money wagered in a year, but Dr Livingstone said this was misleading players, noting it was possible to lose $40,000 in six hours.
"You have to ask where the money comes from and who the family and friends are that might be affected," he said.
Australian Hotels Association Victoria boss Paddy O'Sullivan is against a ban on EFTPOS machines in gaming venues, saying it was "unreasonable" to deny people access to their money, which could be spent on food, drinks, accomodation, and other services provided by most gaming venues.
He also highlighted that gaming venue staff were trained to deal with people showing signs of problem gambling, similar to legal obligations of the Responsible Serving Of Alcohol.