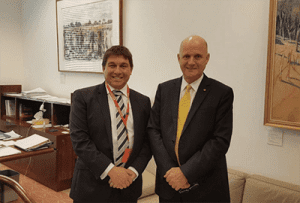 Several politicians are said to be open to legalising online poker in Australia following a visit from the Australian Online Poker Alliance (AOPA).
CasinoSites.com.au spoke to the creator of the AOPA, Joseph Del Duca, who visited parliament last month to discuss the issue with a number of MPs.
"My goal was really just to get in front of as many politicians as possible and help spread our message," Mr Del Duca said.
"What this showed me was that the vast majority of politicians didn't realise the damaging effect they were having on online poker.
"Not only that, most of them didn't even know what poker was and how it was different to other forms of gambling."
The fight for Australian Internet poker has recently been given a helping hand thanks to Liberal Senator David Leyonhjelm, who is said to be a hero among the poker community.
The Senator has introduced a secondary amendment which will exempt online poker, as well as blackjack, from the Interactive Gambling Act 2001.
The debate over the amendment will take place at the end of the month at the next Senate sitting.
Mr Del Duca praised the Senator for his help, but didn't agree with the addition of blackjack in the secondary amendment.
"Without speaking for him, I believe that Senator Leyonhjelm believes that as there is skill involved in correct blackjack strategy that it should be considered the same as poker," Mr Del Duca said.
"We believe the peer to peer nature of poker makes it vastly different."
He also noted blackjack is played against the house, players can learn optimal play within an hour of study and the skills aren't as complex as the evolving nature of poker where "you can spend a lifetime studying the game without ever finding the 100 per cent correct strategy."
Mr Del Duca said while the inclusion of online blackjack in the secondary amendment has the potential to impact whether it will be considered, he still sees it as a win since the government will be discussing poker.
Many MPs agreed with his perspective, but Human Services Minister, Alan Tudge, who created the Interactive Gambling Amendment bill 2016, refused to meet with him.
"We need to get the Minister (Tudge) to see what he is doing is wrong," Mr Del Duca said.
"The two parties that hold government in Australia are both centre-right parties that believe in the rights of the individual and small government.
"Their position in relation to online poker is completely contrary to this."
Mr Del Duca indicated many MPs were also unaware of successful online gambling jurisdictions such the UK gambling Commission.
If the secondary amendment is thrown out, and the Interactive Gambling Amendment bill passes, then secure online poker sites such as PokerStars will withdraw from the market – 888Poker already has.
"What will happen is similar to what happened in the US," Mr Del Duca said.
"The respectable, trustworthy sites that are publicly listed and answer to shareholders will pull out of the Australian markets and only the unscrupulous black market operators will remain.
"By not providing a safe, regulated framework for Australians to play online poker the government is literally forcing people into the hands of predatory black market operators."
When we asked Mr Del Duca about the future of the AOPA provided online poker isn't exempted, he responded quite positively.
"We are still confident that we will get the right result here but even if we don't we will keep fighting," he said.
"This vote in parliament is just round one. It is not the entire fight. We are not going to give up and even if we lose this round we will not lose the fight.
"We will keep going until Online Poker is legal in Australia!"
Looking for a new poker site? Sign up at Ignition Poker and score up to $1000 in bonuses.