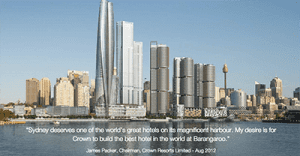 Crown Sydney may be impacted in more ways than one if staff detained in China are convicted, according to a former head of the NSW casino regulator.
Crown Resorts is still reeling after 18 staff, including three Australians, were arrested late last year in Shanghai for allegedly luring VIP Chinese high rollers to their venues.
Now its local casinos are being threatened by potential convictions, including the Barangaroo venue which won't be open until 2021.
Former head of the NSW Independent Liquor and Gaming Authority, Chris Sidoti, has warned further inquiries into Crown's casino licences by an Australian regulatory body will be made if staff are sentenced.
James Packer's company holds casino licences in Sydney, as well as in Melbourne and Perth.
Mr Sidoti said if regulators reviewed the casino licences the operators could receive a warning, be reprimanded or even have a licence revoked. Though it isn't likely evidence relied on from the Chinese legal system would be substantial.
The new Barangaroo casino has already been impacted by the arrests, despite Crown's former chairman suggesting otherwise. The venue was initially promoted as one for high rollers but now it could be first in line for a review.
Mr Sidoti, who was the head of the NSW regulator when the licence was granted, has revealed the NSW government didn't perform a full public inquiry.

"I think there should have been," he said.
"I think that casinos are big money-spinners and operating a casino in most circumstances is a licence to print money.
Mr Sidoti added the parliamentary inquiry of the Barangaroo decision was "inadequate" and "superficial".
"I don't think there was an appetite for thorough scrutiny," he said.
"I think there was a wish simply to get the job done in terms of having some basic level of examination and doing the deal."
Crown revealed last week its high roller revenue has dropped by 45 per cent across its venues.
The arrests as well as the resignation of both chairman and chief executive have been reported as the cause behind the decline.
Crown's new executive chairman, John Alexander, has said it is a "reality check" for the company which has already started to cut costs – 200 Crown Perth employees were made redundant last week and plans to reduce spending on VIP facilities was announced.
Mr Alexander was also careful in the way he described the new Barangaroo casino, no longer referring to it as exclusively for high rollers.
It's been five months since the Crown staff were arrested but their fate remains unknown.
They were detained after the Chinese government announced an anti-gambling crackdown, including targeting foreign casino operators that attempted to lure its citizens. While gambling has always been illegal in mainland China, international casinos marketing to residents seemed to be acceptable.
Travel advice from Australia's Department of Foreign Affairs and Trade didn't detail promotion of gambling as illegal in China.
This was only changed following the arrests late last year.
The department's advice has since been upgraded, stating: "Gambling and the promotion of gambling activities are illegal in China. Anyone found to be in violation of this law may be subject to fines, detention and/or a prison sentence."