How to hide a gambling app on your phone
How to hide a gambling app on your phone
Not many mobile users know that you can hide apps within your phone, which is a trick that can come in handy for those who don't approve of or shouldn't be exposed to online gambling. The instructions on how to hide an app will vary depending on the phone model you have and the operating system you're using, but this article will take you through the most recent developments for iOS and Android systems. Hiding online casino apps from others who might look at your mobile phone is a cool feature, that has slightly different methods of applying across Android and iOS smartphone and tablets.

Best mobile casinos for Australians
---
Why hide a gambling app?
Gambling is an age-old pastime and a much loved leisure activity for many, but unfortunately it also gets a bad rap and can be viewed as sinister by some. While concerns regarding gambling lay more towards problem gamblers, it means that for those of us who enjoy gambling for the recreational pastime it's intended to be, we may sometimes have to keep this hobby on the down-low.
Hiding gambling apps is a quick and easy way to keep apps out of sight from your children, who may stumble upon the app when using your phone or playing on your tablet and access the casino thinking it's a regular game app. Without fully understanding what the casino app was, they could inadvertently place a bet if you're already logged in to your account, which would also mean they were gambling illegally if aged under 18.
Hiding casino apps is also a good option if you have a mobile device that's used for work purposes, or perhaps belongs to the company you work for, where gambling may be frowned upon. It's handy to be able to hide the app if making a presentation on your tablet so that colleagues or clients don't pass any judgement if they happened to catch a glimpse at a gambling app on your home screen.
These same reasons for hiding an online casino app can be applied to sports betting, which can also have negative connotations among some segments of society, including muslims who have a strict rules surrounding gambling.
---
How to hide an app on iOS devices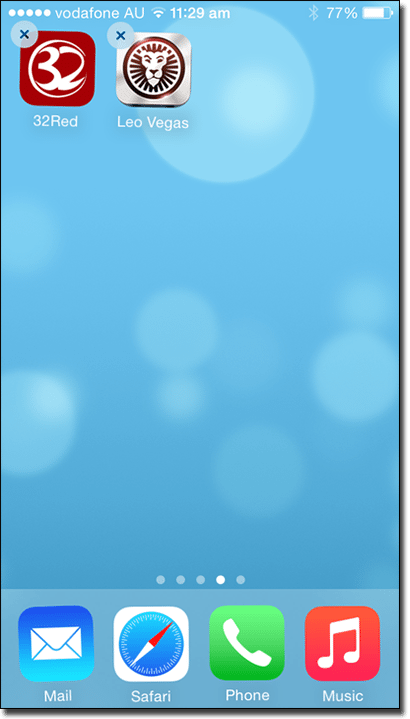 If you have an iPhone or iPad with the latest iOS firmware, there are a couple of different ways you can hide an app on your iOS device. It can get a little tricky as there's no official command available to do this, but Apple gadget fanatics have come up with some good little hacks to enable users to hide apps.
If you're using iOS 8.0 or above (in fact this should also work for iOS7), follow these steps to hide a gambling app on your iPhone:
<0l class="numList">
Start with a home screen/desktop full of various apps
Click on the gambling app you wish to hide and hold it down for a couple of seconds. The apps will all start to wobble around and an X will appear in the corner of each, this means that apps can now be moved or deleted.
Hold down on the gambling app and drag it across to the full home screen, just like you would if you were going to create a new folder, but don't let go of the app.
Once the system thinks you're using the app to create a new folder, drag the gambling app out towards the main dock (where the mail/Sarafi/phone/music apps are located) and let it go.
This is essentially a trick more than an actual system alteration, but it will successfully hide a casino app from your home screen, while you can still access it by running a search for the apps name in Spotlight. When you restart your phone the gambling app icon will appear on the desktop again.
---
How to hide casino apps on Android devices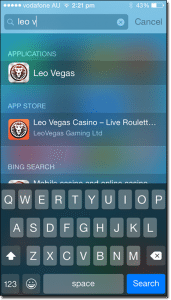 The steps to hiding an app on an Android phone are much more straightforward than that of iPhone, but exactly how you do this will depend on what device model you're using, as directions differ between Nokia, Samung, HTC and so on.
For specific directions pertaining to a certain phone make and model, refer to the manufacturer's instructions.
To make it easy for all Android users to hide apps, there are specific apps you can download for free from the Google Play app store that will hide apps on your behalf, taking all the leg work out of it for you.
Some online casino apps, including pokies apps, will allow you to password protect specific apps, so if you don't want to put a pass code on your lock screen you can still put one on a gambling app, which is handy if you want to restrict access from young children.
Popular Android apps to help with hiding gambling apps include:
Andrognito – stealthily password protects specific content.
Smart Hide Calculator – an app masquerading as a fully functional calculator, which gains you access to hidden apps by entering numbers to the calculator which act as a secret password.
Hide App – hides any apps you want from the phones home screen.
---
What gambling apps should I download?
As explained in our main casino apps guide, not many online casinos offer official dedicated native applications on the app store market just yet, due to gambling laws. One of the top-rated online casinos we recommend, however, has a legal app available for download by tapping on the buttons below directly on your smartphone or tablet device:
---
What iGames are available via casino apps
There are many cool online casino games that you can play at real money casinos, with many of these frowned upon, and needing to be hidden from those we love. The casino games available at casino sites includes everything from slots and blackjack, right through to niche titles like 75 Ball Bingo and strange card games. The casino games available at some online casino jurisdiction will also differ to others. For instance a South African online casino might not have as many gambling games as a New Zealand online casino. Some of the most popular online casinos games found at iOS and Android mobile casinos include:
Royal Vegas Casino's official casino native app is a dedicated program to access the highest-quality real money casino games on mobile, including pokies, blackjack, roulette, poker and more – all you need is a data connection or 3G/4G as an alternative to Wi-Fi. After signing up, you can enjoy hundreds of games with the touch of a button.