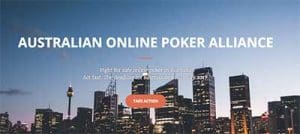 The survival of online poker in Australia is dependent on an inquiry which is open to the public for just one more week.
The introduction of the Interactive Gambling Amendment (IGA) Bill 2016 sent the online gambling industry into a frenzy as online poker will be prohibited.
Although the bill has not passed Parliament, when it is approved online casino games, including poker, will not be available to Aussies.
But an inquiry by Senator David "screw the government" Leyonhjelm of the Liberal Democratic Party may just save Internet poker.
The upcoming Senate inquiry, supported by the Australian Online Poker Alliance (AOPA), looks at the following issues:
The participation of Australians in online poker
The nature of the game – whether it is a skill-based game
Whether participating in the game causes social harms or benefits
Whether the current regulatory approach, in particular, the recently amended Interactive Gambling Act 2001, is a reasonable and proportionate response to those harms and benefits
The inquiry will take place on September 14 and likely before the House and Senate come to an agreement over the amendments in the IGA Bill 2016.
Submissions close on July 21 for those who want to save the online pastime which is enjoyed by hundreds and thousands of Australians.
Currently, the online gambling industry operates under the Interactive Gambling Act 2001. The legislation makes it illegal for Australian gambling operators to target Australian players.
But when it comes to foreign sites, including online poker rooms which are licensed by advanced gaming jurisdictions, the rules are somewhat vague.
Therefore, Australians have been able to play at offshore sites such as PokerStars without any problems.

Then the former New South Wales Premier, Barry O'Farrell, realised Australian dollars were being spent at these sites without the government getting a piece so he created the Review of Illegal Offshore Wagering.
Meanwhile, Minister for Human Services, Alan Tudge, had a colleague who spent hundreds of thousands of dollars at Sportsbet. He said the colleague lost his house due to the debts he owed to the bookmaker. As a result, he introduced the IGA Bill 2016 which referenced Mr O'Farrell's review.
Although the bill does not ban online bookmakers licensed in Australia, it does ban live betting and reduces gambling ads.
However, the bill also bans offshore online casinos and poker rooms in the process. While it is yet to be enforced, online gambling operators have already exited the Australian market.
Senator Leyonhjlem fought for online poker and blackjack to be exempt from the IGA Bill 2016 during the Senate, but his secondary amendments which would have saved the games failed.
As a result, he told online gamblers to "screw the government and get a VPN" and then launched a Senate inquiry along with Senator Cory Bernardi of the Australian Conservatives.
"The stupid government has made it virtually impossible to play poker online," Senator Leyonjlem said via his Facebook.
"As a result, thousands of Australians who play poker for fun can't play it online, or they won't once the bill takes effect. It's insane."
While some may believe it is a lost cause, recent lobbying by the AOPA has revealed many politicians did not know poker requires skill, not luck.
The AOPA creator, Joseph Del Duca, recently spoke to Inside Asian Gaming and confirmed that every submission explaining the nature of poker helps.
"The Australian online poker community is a vibrant and diverse group of people," Mr Del Duca said.
"It is important that we get as many members of our community to make their voices heard so the government understands how important our hobby is to us.
"We're fast running out of time to save online poker in Australia."
Submissions can be submitted via the Parliament of Australia website.
WSOP Australian poker winners
This year marked the third largest WSOP Main Event turnout ever, with 7221 poker pros joining the event.
Several Australians registered too, including 2005 Main Event winner Joe Hachem. Unfortunately, the Aussie, who has made poker a professional career, was eliminated on Day 3. He put up a good fight but in the end, he was beaten by Ohio's Jared Palmer.
"Good luck, guys. It was nice playing with you," Mr Hachem said as he made his exit.
"All the best!"
Meanwhile, a number of side events have continued to take place, with Tasmanian-born Heidi May winning a gold bracelet in the $10,000/$1,000 buy-in Ladies No-limit Hold 'em Championship.