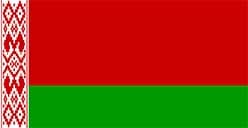 The Belarus Minister for Taxes and Levies has presented a new bill aimed at legalising and regulating online gaming in the country to generate more revenue from the industry.
Already, gaming consumers in Belarus are able to access offshore gambling sites, which is causing the country to lose revenue since they cannot claim tax from these operators.
With this, the new bill intends to address the issue by building on previous attempts to legalise and regulate the online gaming sector.
The newly drafted bill mentions the setting up of a state-run online gambling portal to supervise tax management in the gambling industry.
This legislation would effectively outlaw online casinos and sports betting sites based offshore to people from Belarus, instead giving them a locally regulated option.
"At this stage, considering the planned legalisation of online gambling and additional investments needed to organize a new type of activity in the gambling business, the Ministry of Taxes and Levies does not plan any changes in the taxation policy of this activity," Nalovaiko said,
"The fixed rates for gambling tax are planned to be maintained for the next three years without changes, at the level of tax rates established for 2018."
Belarus can accrue an estimated $6m (€5.1m) in tax within the first three years if the online gambling sector is regulated.
More gambling news