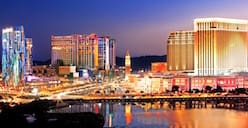 Patrons of the various casinos in Macau can now heave a sigh of relief with crime in the gambling mecca dropping significantly.
Records from the city's Judiciary Police (JP) indicate that gaming-related crimes dropped by 3.8 per cent in the period from January to May 2018, compared to the same period in 2017.
The AJ describe gaming-related crimes as those that happen inside or around a casino.
Out of the 706 crimes, 144 were alleged unlawful detentions related to loan sharking, which is a 38.9% drop compared to last year.
The Director of JP, Sit Chong Meng said the general crime rate in Macau is gradually dropping, adding that reported casino-related crimes have reduced, while the number of suspects delivered for prosecution has increased.
The judiciary police arrested 113 suspects involved in illegal loan sharking last June, which was the highest in Macau since Portugal handed the city to China in 1999.
That aside, 13 people were arrested on July 4, while 28 were arrested in February for the same crime. The JP also questioned 280 people in May in relation to the act.
The JP has taken a new tact in its efforts to curb crime in recent times, working with casinos and ensuring greater presence, to curb criminal activities in Macau.
More casino news