Online blackjack table limits
Online blackjack table limits
Online blackjack offers table limits for everyone – from low limit wagerers to high rollers. Whether you only want to place a few dollars on a hand or lay down a couple of thousand, there's a title available for you.

Blackjack casinos with best table limits
It is important to only play secure blackjack titles at safe web casinos otherwise your dollars or thousands may be compromised. Stick to the sites listed above to avoid this from occurring.
---
What are blackjack table limits?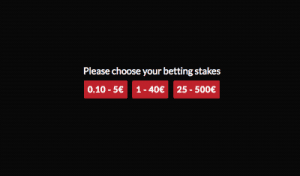 Table limits are the minimum and maximum betting amounts imposed at a blackjack table. For example, a standard blackjack table could have a minimum bet of $1 and a maximum bet of $1000. These limits vary from land-based gambling establishments, as well in online blackjack casinos with each different software providers and rule variants.
Land-based casinos generally have higher table limits in terms of both minimum and maximums due to overhead costs and the ability to host VIPs better. However, online casinos can accommodate high rollers and remove deposit limits so you can enjoy higher limits.
Internet casinos feature lower minimums too, which accommodate low to mid limit blackjack players and therefore are quite appealing to the majority of players. What's more, there's such a huge variety of variants online by reputable software providers and table limits range from $0.10 on Random Number Generator (RNG) games up to $10,000 on live dealer options and potentially more if you contact the casino.
There is even a difference between table limits when it comes to RNG games and live dealer options at online casinos (live dealer has a real person set up in a studio handling cards, streamed in real time to your device). This is due to the live dealer games incurring bigger overhead costs, similarly to their land-based counterparts.
Therefore, it may be best to stick to RNG blackjack if you want really low limits and live dealer for mid to higher limits. We've chosen the best online software providers to show you the range of table limits on offer.
---
Microgaming blackjack table limits
Microgaming are the leading online software provider for casino games, and their blackjack range is no exception – particularly their high limit 21 offerings.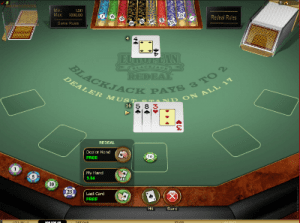 European Blackjack Gold: Considered to be one of the most popular Microgaming titles available. It sees two decks of 52 cards in play and the dealer has to stand on all 17s. The table limits for this variant is a minimum of $1 and a maximum of $1000.
European Blackjack Redeal Gold: Another popular Microgaming game which is quite similar to the aforementioned title but a player can pay to replace their hand, just one of their cards, or the dealer's up card for a chance at a better hand. The minimum bet here is $1 while the maximum is also $1000.
---
Net Entertainment 21 table limits
NetEnt have a huge range of blackjack games with varying table limits from low, medium, and high, each clearly labelled to make locating the appropriate table limit easier.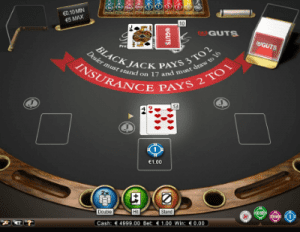 Blackjack Pro Low limit: The best low limit blackjack game. With a minimum bet of $0.10 and a maximum of $5, you can pick from higher limits but if you want a low limit game, this title will suit you best. It's played with four decks of 52 cards and follows standard blackjack rules. Split, insurance, and double down is allowed after your first two cards.
Live Blackjack: Offers a maximum limit of $5000 and a minimum bet of $10. Perfect for high rollers and maximum stakes VIPs. There's seven seats available and six standard decks of cards are used. The play is hosted by the live dealer via webcam. Split is available once, and Insurance can be taken. There's also the option to take the Even Money bet where if you have Blackjack and the dealer has an Ace you can prevent a push by taking a payout of 1:1.
---
Evolution Gaming live dealer blackjack table limits
Live dealer software providers specialise specifically in crafting live games for the online player. Evolution Gaming is one which has mastered the live dealer industry, so much so Microgaming added Evolution Gaming's live dealer titles to their own catalogue.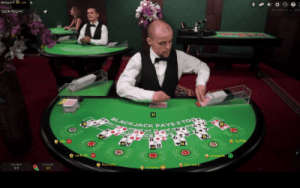 Live Blackjack Party: Features two dealers rather than one. This creates an incredibly social atmosphere – the whole point to opting for live dealer 21 games. Seven seats are available and table limits vary due to the ability to bet behind – not play at the table but wager on someone's hand at the table. The minimum bet for bet behind is $0.50 and the maximum bet is $500, while minimum bet is $5 and maximum is $5000 for seated gameplay.
Live Blackjack: NetEnt's live 21 variant is perfect for a standard game, with the dealer standing on 17 and drawing on 16. Table limits range from $5 to $500 with high quality feed to your mobile or desktop device.
---
Felt Gaming Blackjack
Felt Gaming is a relatively new software provider and offers many different high table limit online blackjack.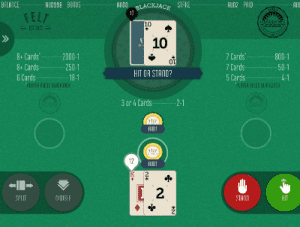 Blackjack Buster Bet: Has standard blackjack rules and a side bet where players win if the dealer goes bust by a certain amount. There's payouts up to 2000:1 available. Table limits here include a minimum of $0.50 to a maximum of $500 for blackjack bets and a minimum of $0.50 and a maximum of $250 for the side bet.
Blackjack 21+3 Bet: Standard blackjack gameplay plus the side bet option where you can win if your first two cards and the dealer's upcard makes a Three Card poker hand. This title has payouts up to 100:1. The same table limits are available here as above.
---
Playtech's unique blackjack games
Playtech's online blackjack range is unique and features several high-roller friendly rules variants.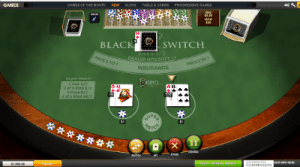 Blackjack Switch: Two hands are dealt and the player can switch the second card of each hand for a better chance at winning. There's side bets available at the table include Super Match offering big payouts if you get pairs. The minimum and maximum bet is quite small – $0.50 to $50.
Blackjack Peek: Another title which offers traditional gameplay but the dealer peeks to see if they have blackjack. If they do the round ends, so you aren't mistakenly Doubling Down. Table limits are low again from $0.50 to $50.