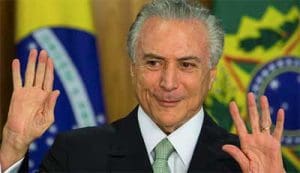 Brazilian President Michel Temer has reportedly announced that he would sign any gambling expansion bill that comes his way.
There's just one problem – he might be impeached before he can authorise any gambling changes.
Last week, the Parliamentary Front for the Regulatory Framework of Gaming in Brazil took place, where the country's lawmakers met to discuss the legalisation and regulation of gambling.
For several years now, the country has been attempting to get two prominent pieces of gambling legislation through the Senate and the Chamber of Deputies. Both bills would legalise land-based casinos and other gambling products, which could include Brazilian online casinos.

International gambling operators have been watching patiently as the bills have progressed and stalled, with the Chamber of Deputies' bill set to go to a vote before December, while the Senates' version is still awaiting a vote to be scheduled by Brazil's House Justice Committee.
According to Deputy César Halum, who introduced the bill to the Chamber of Deputies, Brazil is losing R$18 billion per year in revenue to offshore gambling companies.
Under current legislation, Brazilians can only play games of chance, which are incredibly popular among citizens, at illegal offshore sites. More than 200,000 Brazilians reportedly travel to Uruguay to visit local land-based casinos too.
Analysts have predicted physical Brazilian casinos could generate R$55 billion ($USD17.6 billion) a year, with the government eligible to claim around R$6 billion ($USD2 billion). They have also stated that the South American country has the potential to become the biggest regulated gambling jurisdiction in the world, provided the appropriate regulations are enforced.
International casino conglomerates like MGM Resorts and Las Vegas Sands have expressed interest in the South American market, which is made up of almost 208 million people. The companies have even visited Brazil to map out potential casino locations.
Brazil has been facing a cash crisis for some time now, and revenue sourcing has likely pushed the President into welcoming any and all gambling bills which emerge from the government. The country desperately needs to find a new source of revenue, and a regulated gambling industry could provide that.
However, President Temer will face a vote on whether he should stand trial on charges of obstruction of justice and leading a criminal organisation, on Wednesday.
A Chamber of Deputies committee already voted 39-26 against a trial, last week. The recommendation will be considered by all 513 deputies this week, where a two-thirds majority is required for the President to stand trial.
He will be suspended from office for six months if the majority vote sends him to trial, and any hope for a regulated casino industry will be thwarted.
But he is expected to survive the vote, given The Chamber of Deputies already denied sending Temer to trial following a request by Brazil's top prosecutor earlier this year.
If you're looking to play games of chance or other online casino games, there are plenty of secure sites available to players from United States. We recommend checking out BetOnline Casino for the best gaming experience.