HONG Kong tycoon Tony Fung's plans for a multi-billion dollar Cairns casino have been dumped.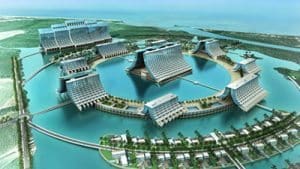 The Aquis Great Barrier Reef boss had for six years pushed to build an $8 billion casino resort on the Yorkey's Knob site in Cairns, but now instead plans to develop a $2 billion luxury hotel, apartment and villa complex at the site, according to The Courier Mail.
Mr Fung had withdrawn from the Integrated Resort Development process and was no longer applying for a gambling license, instead shifting his attention to what he calls "positive" negotiations with the State Government and Cairns Regional Council for land development approvals.
It's a stunning about face, with Aquis' planned casino promising to be a tourism bonanza for the tropical city. It was projected to have attracted one million visitors a year, generate billions of dollars for the economy and create thousands of jobs.
However, Mr Fung says a "nosedive" in the casino business had contributed to the decision to scrap the plans and instead focus on an accomodation complex.
"[The] whole casino industry is not the same as it was 26 months ago," Mr Fung told The Courier Mail. "It (Aquis GBR) has been six years and lots of time, money and effort on my side, but the market has changed."
Mr Fung spent $40 million on the Aquis GBR project which would've added another to the growing list of Australian casinos, and while the new project comes at a cost of $6 billion less, Cairns Mayor Bob Manning says it would still be important for the region's tourism.
"Nobody wants this more than we do. Let's get on with it," Mr Manning said, adding the council would make it happen at "breakneck speed".
Looking for a casino to play at?
Other than land based "brick and mortar" casinos, there are online casinos available to players from United States. We highly recommend BetOnline Casino as safest and the best online casino providing support for players from United States.