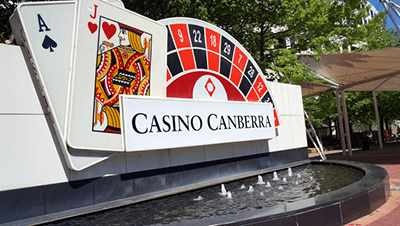 Casino Canberra owner Aquis Entertainment has forewarned legal action against Clubs ACT and the Canberra Raiders after clubs lobbyist Richard Farmer claimed the casino was engaged in "secret backroom deals" with the ACT government, a claim Aquis venomously denies.
Mr Farmer was taken on by the Raiders to campaign against 500 additional pokies machines as part of a $330 million redevelopment of the casino. In March he claimed the expansion would devastate other clubs in the ACT, and that deals made regarding the casino's development as well as the redevelopment of Manuka Oval were "unsolicited" and should be made public.
Aquis accused Mr Farmer of making "false, inflammatory and defamatory statements" about the casino in his allegations the ACT government was engaging in "secret" deals regarding the redevelopments. The accusations were outlined in a letter from lawyers Gilbert and Tobin.
Clubs ACT is also accused of falsely claiming the casino's redevelopment would cost thousands of jobs, a claim Aquis says is "highly emotive" and untrue. It says the casino would provide more jobs and allow clubs to sell their pokies machines to the casino for a quick cash injection.
Aquis demanded Mr Farmer and the Raiders Club remove any "defective" statements and all materials containing defective statements from the internet by 12pm on Wednesday 20 July 2016 or face legal action.
However, Raiders chief executive Gwyn Rees held firm, telling The Canberra Times no material would be removed and the Raiders weren't afraid of the threats of legal action.
"To my knowledge we haven't put anything up that is false, so I'm quite comfortable with what we've done," Mr Rees said.
Mr Farmer turned to political rhetoric to attack the ACT government and the casino, saying the threat of legal action "might work in Beijing but surely not in Canberra".
"I'm disappointed that our majority foreign-owned casino is using legal bluff and bluster to try and further limit public debate on an important matter," he said.
Rees was similarly political in his response, saying shutting down debate "may work where the foreign owners and their management teams come from", but they won't be silenced and the government has "turned their backs on community clubs".
It is not currently known if Aquis has initiated legal action following the Raiders' and Clubs ACT's failure to comply.
Keen to play online now? If you're from United States, we recommend you sign-up at BetOnline Casino now.