A compulsive gambler's unlucky run at Sydney's The Star casino created a domino effect that led the capture of an alleged cocaine empire kingpin.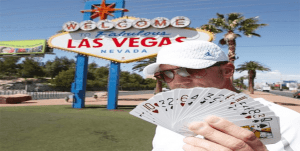 R.J. Cipriani, known as "Robin Hood 702" for his tendency to donate gambling winnings to Las Vegas' needy, was gifted more than $2 million to gamble as part of a supposed money laundering scheme overseen by alleged US-based cocaine baron, Owen "O-Dog" Hanson.
Cipriani was reportedly instructed to lose no more than $600,000 at any one time, but when he blew the lot playing blackjack in Sydney, Hanson sent in former cage-fighter Sean Carolan to send Cipriani a message and retrieve the money.
Rolling Stone has detailed how a rattled Cipriani, who had already been threatened by Hanson for having lost so much money, was instructed by Carolan to meet him at the Hilton Hotel. Cipriani, fearing for his safety, contacted police in Sydney. The anonymous tip-off said a man armed with a gun was saying in room 3026 at the Hilton.
When police raided the room, they found Carolan, although he wasn't armed. What they did find, however, proved to have far greater consequences – a suitcase with $702,000 in cash.
So far, the bust has led to the arrest of major crime figures, as well as businessmen in both Australia and the US. Also among them is former NFL running back and Super Bowl winner Derek Loville, who is accused of selling cocaine, heroin, ice and ecstasy as part of "O-Dog" Hanson's US-based crew. The drug racket, called "O-Dog Enterprises", was elaborate and large. It had a CEO, accountants, lawyers, and drug runners.
Hanson saw the Australian market as among the most lucrative in the world, with profits from selling cocaine down under 800% greater than in the US. The problem, however, was in hiding the money from authorities. To do so, he hired the services of Cipriani to gamble money and pretend it was part of his bankroll.
Nine News reports four Australian men were arrested, each facing different charges – money laundering, perverting the course of justice and more.
Haeusler, Croke and McManus had all made attempts to retrieve the $702,000 from authorities, getting them caught in the web.
In the US, the FBI has charged 22 people from a large gambling and drug cartel.

It's no surprise that Australia is seen as such a lucrative market for cocaine kingpins. Our isolation and closed borders makes it a tough sell, but in combination with legalised gambling in most jurisdictions, that combination with illicit drugs makes it a potent location for drug cartels. It's any wonder how long the alleged syndicate would have operated had Cipriani not feared for his life.
Play drug-free online blackjack games for real money at BetOnline Casino – the cleanest, most law-abiding casino site for players in United States.