China's crackdown on gambling may have spooked the world's largest casino operators, but international staff are now flocking back to the mainland.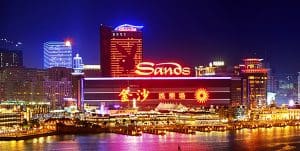 The arrest of 18 Crown Casino staff, including three Australians in October last year forced the likes of Las Vegas Sands, MGM Grand and Galaxy Entertainment to rethink their marketing approach in Macau and the China mainland.
The arrests came as China ramped up efforts to tackle the illegal promotion of gambling in the country. They were related to the solicitation of Chinese high rollers to gamble in Crown's overseas casinos. Such an act is considered a crime and carries a 10-year sentence in China.
Understandably, other casino operators immediately ceased marketing efforts on the mainland. Only a few months later, however, and things appear to be going back to normal.
A report on the Australian Financial Review says most North American casino operators, as well as The Star Entertainment Group, which owns and operates Sydney's The Star Casino, either informed marketing staff to leave China or to halt any planned marketing work when Crown's staff were arrested.
The reason these groups operate as such in China is due to the lucrative pull of Chinese high-rollers, who are persuaded to visit casinos.
While the risk was high, marketing officials are now stepping back onto the mainland, with sources telling AFR that the likes of MGM Grand and Las Vegas Sands Corp are aggressively pushing back in.
Matt Bekier, the chief executive of the company which owns Sydney's The Star casino, is said to be closely monitoring the situation in China, and has held back on deploying marketing staff back to the region for the time being.
Casino operators are permitted under law to have staff in China, mainly for sales and marketing purposes in relation to the resorts attached to the casinos, as well as other forms of entertainment not including gambling.
It's believed that 17 of the 18 Crown staff who remain in prison will eventually be charged with gambling-related crimes.
One staff member, Jenny Jiang, was released on bail on November 10.
Industry analysts warn that an aggressive marketing push to attract VIPs could force China officials to once again clamp down. If a surge in VIP spending and gambling in Macau is noticed by authorities, this could lead to another major crackdown, and more arrests.
As such, casino operators are warned to tread carefully in the region.

It's clear that China's initial crackdown and arrest of Crown staff was a warning to other casino operators to tread carefully in the region. It appears that the marketing efforts by Crown and others were very aggressive, and Chinese authorities didn't take kindly to international organisations luring Chinese citizens away to engage in gambling activities off the mainland. While China seemingly turns a blind eye, it will get involved if things get out of hand.
If the casino operators believe China has loosened its stance, then they should be able to resume marketing operations, of course without breaking local law. However, it's hard not to consider that it's greed that's driving the reigniting of marketing efforts. Attracting VIPs and having a constant presence in China is almost too lucrative a proposition to pass up, and with the number of VIPs visiting Macau casinos on the down, it's no surprise that these casinos are rushing back in. They should do so cautiously.
Players from United States can gamble online in perfect safety at BetOnline Casino.