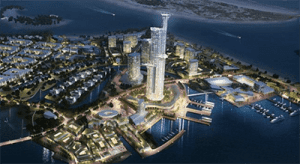 James Packer's Crown Resorts has shut down claims it is in cohorts with the Chinese developer behind the new casino at Gold Coast's Southport Spit.
ASF Consortium, owned by the ASF Group, is currently discussing plans for the $3-billion-dollar casino and resort in Queensland and is now being contradicted for publicly implying Crown Resorts was a "consortium partner".
An audit performed in March revealed ASF Group has lost $92 million from the $102 million it had from investors.
Following the discovery, the ASF Group released a statement outlining that the ASF Group and the ASF Consortium were different companies.
"The ASF Consortium comprises entities including China State Construction Engineering and (a) Tier 1 casino operator," ASF Group added.
"Together ASF Consortium has significant financial capacity and expertise, more than sufficient to deliver this project for the state of Queensland."
According to the Australian, the ASF Group wrote to the media outlet identifying Crown Resorts as the "Tier 1 casino operator."
But a spokesman for Crown has said the company does not have a contract or an agreement with the ASF Group or ASF Consortium.
It appears the ASF Group might have jumped the gun since the spokesperson said they've only had preliminary discussions and Crown was not associated with the controversial development.
"We've had talks with them but Crown has no agreement with ASF Group," he said.

The controversy around the proposed development is based on the appropriateness of the project which will be built on public land.
ASF Consortium wants to build a "world-class casino" and five buildings each 45 storeys high, but development plans currently only allow for three storeys.
The project, set to feature real money pokies and other casino games, has been promoted the Queensland government and by State Development Minister Dr Anthony Lynham, much to the public's dismay.
The ASF Consortium has also held a public consultation which involved a multiple-choice survey. This was scrutinised heavily since it did not disclose the project was a casino, instead, it said it was an integrated resort. It also failed to disclose how many apartments would be built or the height of towers.
The process was all conducted under Dr Lynham's approval.
The leader of One Nation in Queensland, MP Steve Dickson, wants the Queensland government to abandon the billion-dollar project.
"ASF's proposal for a high-rise casino development on public land zoned three storeys is supported by the Palaszczuk government due to ASF's claims to provide a large number of jobs and increase tourism," he said.
"However, it is strongly opposed by residents, visitors to The Spit, many businesspeople and even well-known property developers such as Norm Rix."
Prefer to play casino games online?
Land-based casinos are fun, and provide a great night out, but online gambling sites offer players the chance to win bigger prizes, with progressive jackpots, and manage funds under one account.
We recommend players from United States play real money casino games at BetOnline Casino if you're looking for an alternative to a brick and mortar casino.