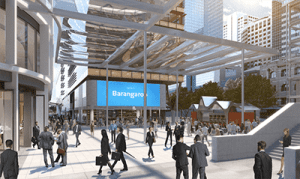 Crown Resorts' new business model for Barangaroo may be jeopardised as the NSW Premier has ruled out any chance of poker machines at the Sydney venue.
Crown has long called Barangaroo a VIP only complex, but in recent times its expected audience has transitioned due to a decline in high roller revenue.
But the newly appointed New South Wales Premier, Gladys Berejiklian, has created a roadblock for the transition, denying Crown Resorts' request to put pokies inside the high roller complex in Sydney, according to ABC News 24.
The Premier said the venue would not turn into a regular casino with electronic gaming machines, even if James Packer failed to attract the wealthy high roller casino players initially envisioned.
"The policy hasn't changed — that's a VIP room," Ms Berejiklian said.
Former Premier Mike Baird approved the $2 billion VIP-only Barangaroo complex in 2014 after Packer proposed the venue would be a drawcard for overseas wealthy players – predominantly from China.
Pokies weren't part of the proposal.
While the Sydney venue won't be open until 2021, Crown is already rearranging its business model, with newly appointed chairman John Alexander suggesting VIP isn't the only "arm and leg of Barangaroo."
Ms Berejiklian has affirmed the Baird-approved casino policy, emphasising it will remain a "restricted gaming facility" business model.
Crown has struggled in the wake of the arrests of 18 Crown staff and associates last year, which has resulted in a steep drop in VIP revenue for its Australian properties.
The arrests could result in a review of its licenses with former chair of the Independent Liquor and Gaming Authority, Chris Sidoti, suggesting the Sydney license was granted too quickly.
"I don't think there was an appetite for thorough scrutiny, I think there was a wish simply to get the job done in terms of having some basic level of examination and doing the deal."
Ms Berejiklian refuted Sidoti's comments.
"I respect [the rights of] anyone with experience to express their views but there was a very thorough process," she said.
"That part of Sydney is potentially the most highly regulated and scrutinised processes we've gone through as a government.
"I'm convinced that the process was robust, in the strictest of probity and I look forward to seeing the site further develop."
Alternatives to land-based casinos
If you don't want to wait for Barangaroo to be built, or you aren't located in Australia, you can head online and play real money casino games.
We recommend playing at Slots.lv, due to the range of secure games for players from United States, and security features used.