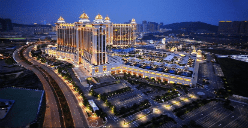 Taxes generated from gaming operations in Macau increased by 17% year-on-year in the first eight months of the year as the government raked in over $8.78 billion from operators.
The figures released by Macau's Financial Services also shows the government received a little over $10.53 billion in recent revenue from all of the sources within the eight-month period. This also represents a 15.3% increase compared to last year.
The calculation of direct taxes includes taxes on income from gaming, Chinese lotteries, instant lotteries, greyhound racing, horse racing, and taxes paid on commissions earned by gambling junket promoters.
GUIDE: BEST REAL MONEY CASINOS SITES
Operating a casino in Macau comes at a huge cost, as gambling operators pay a 35% tax on their gross gaming revenue, now increased by 4% with the addition of other taxes to the gaming sector.
According to the Macau Gaming Inspection and Coordination Bureau (DICJ), the total gross gambling revenue for the eight months was $25,043 billion, which is a 17.5% increase compared to last year.
The Macau government is, however, anticipating a gross gaming revenue of over $28.49 billion and expect to rake in direct gaming taxes of over $10.21 billion. This target may not be difficult to achieve as 86% of the revenue had been collected by the end of August.
Despite government officials always remaining cautious when predicting tax revenue due to the volatility in gambling performance, their target is achievable.
The gaming gross revenue last September increased by 2% to $2.72 billion compared to the $2.66 last year, despite the typhoon that hit some parts of Asia, forcing Macau's casinos to shut down for some days.