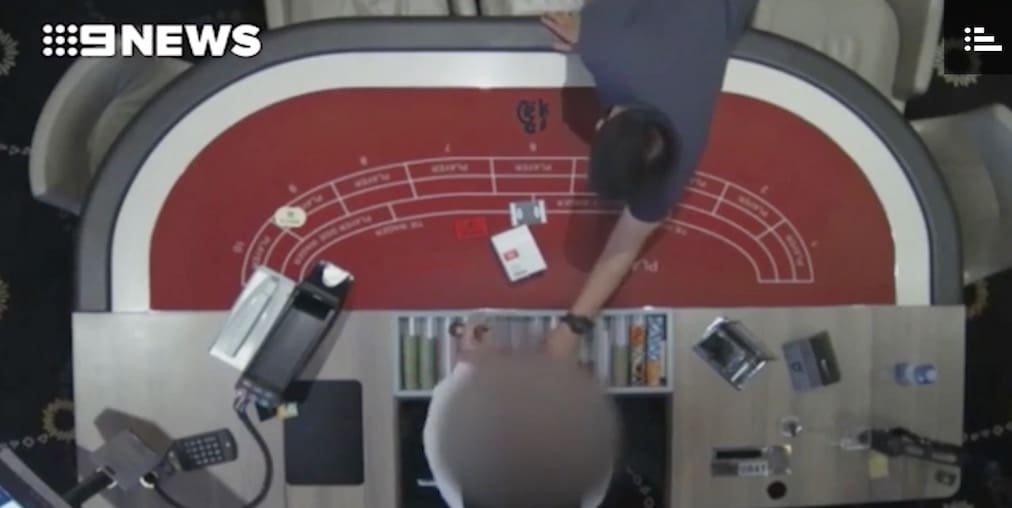 AN aspiring police officer has plead guilty to stealing $125,000 worth of betting chips from Melbourne's Crown Casino.
39-year-old South Yarra man Gunawan Akay stole the chips in plain sight of CCTV cameras at a high roller baccarat table in the members-only Maple Room in December 2016.
Mr. Akay grabbed 25 betting chips valued at $5,000 each and fled the casino in a taxi, telling the court he lost most of the stolen chips along the way. The theft and his escape were all caught on surveillance video.
In the CCTV video, you can clearly see Mr Akay approach the manned baccarat table and reach over and grab a handful of the chips as the shocked dealer tries to stop him. He then turns and runs away.
Mr Akay's lawyer, Kristina Kothraki, called the crime unsophisticated and that it was committed out of desperation.
"How this could have ever worked is beyond comprehension," she said.
Ms Kothraki told Melbourne County Court Judge Claire Quin that 22 of the 25 chips "disappeared" and that Mr Akay only had three chips left by the time he returned home from the theft. The stolen betting chips, which are quite large in size, have never been recovered.

"He got home and felt absolutely sick about what he'd done, and the next day he threw them away," Ms Kothraki said.
The court heard Mr Akay first started gambling at the Crown Casino in 2011 after he convinced himself he could gamble his way out of a difficult financial situation. At the time, Mr Akay didn't have an income or a place to live after he and his girlfriend lost an apartment in a bad investment and had been served an eviction notice due to late rent payments. He obtained a line of credit and got the "false impression" he could multiply the money and fix their problems.
A month before the theft, Mr Akay was approached by the Crown Rewards team to become a Crown Gold Rewards member, which would give him access to the VIP gaming room, free parking and vouchers.
On the day of the theft, Mr Akay had a fight with his girlfriend about his gambling habits and the amount of money he was losing. When he saw the chips, he saw them as an answer to his problems and "just grabbed a handful and ran," according to Ms Kothraki. She said it was a decision he has regretted since the moment it happened and that he hasn't gambled since.
Mr Akay is being assessed for a Community Corrections Order and will receive his sentencing on Wednesday. His guilty plea and lack of criminal history will be taken into consideration, although Prosecutor Adrian Trotman called the offence "brazen" and argued there has been no attempt to compensate the casino.
Play at safe online casino sites
Stories like this one remind us why its so odd that online casinos get a bad reputation for not being safe, with land based casinos obviously running equally high risks. If you're looking for a safe online casino to play at, there are online casinos available to players from United States. We highly recommend BetOnline Casino as the safest and best online casino providing support for players from United States, with high digital security standards in place to ensure players are protected at all times.