This month will see the return of the popular Microgaming Poker Network (MPN) Cash Drop, with $30,000 in cash prizes to give away.
Every 5 minutes from August 4 until August 21, a random player on a real money cash table will be awarded $5 instantly, with $25,000 to be given away during the promotion.
In addition to the random cash drops, $5,000 will be divided for leaderboard prizes. Each time you receive a $5 cash drop, you'll work you way up the leaderboard ranks. Finish on top of the leaderboard at the end of the promotion and be rewarded with an additional $500 cash prize.
Players will be notified of their win in the chat window. The $5 cash prize will be available for play as soon as it is credited to your account.
To get involved, sign up at BetOnline Casino and receive a $160 welcome bonus.
The MPN Cash Drop promotion is also available on mobile via the MPN mobile client, allowing you to play on-the-go on your iOS or Android smartphone or tablet.
The leaderboard cash prizes are as follows: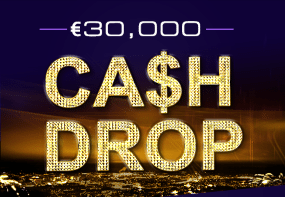 1st – $500
2nd – $375
3rd -$250
4th -$200
5th – $150
6th – $100
7th-10th – $75
11th-20th – $50
21st-40th – $40
41st-70th – $20
71st-100th – $10
111th-275th – $5
Conditions:
To be eligible for prizes, you must be sitting in and have been dealt at least one hand on a real cash table.
Tournament players are not eligible for prizes.
If you are playing at multiple tables, you will be counted once for each potential prize.
Players from United States can win multiple times if their account is drawn more than once.
The $5 cash prize will be credited to the player at the completion of the cash game hand taking place during the minute in which it was given out.
All leaderboard prizes will be awarded by August 25, 2016.
Leaderboard ties will be divided between the players.